Reps Summon CDS, Service Chiefs Over Rights Abuse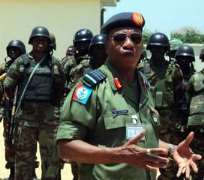 ABUJA, May 17, (THEWILL) - The Federal House of Representatives on Thursday summoned the chief of defence staff, Air marshal Oluseyi Pentirin and all the three service chiefs to appear next week before its ad hoc committee investigating alleged abuse of human rights in Kano by men of the Joint Task Force (JTF).
Deployed to Kano to curtail incessant bomb and gun violence in the country's second largest city, the JTF has been accused of brutalising innocent residents of the state in the name of maintaining law and order.
Deputy Chairman of the committee Hon. Suleiman Abdulrahman Kawu Sumaila disclosed this in a statement, saying that all victims of the alleged brutalities have also been invited to make presentations before the panel.
"We have already invited the chief of defence staff and all service chiefs over the matter. They are to appear before us next week but we must first hear from those affected," he said. "The House committee is calling on all victims of alleged brutality by soldiers deployed to Kano not to hesitate in coming out to lay their grievances, as the House is ready to do justice to the issue."
He added that his committee had commenced work and therefore wanted all concerned to lodge complaints, as directed by the House in plenary.
"They can approach the committee immediately, either directly or through their respective representatives in the National Assembly as we were given only one week to submit our report."
The deputy minority leader of the House then advised the JTF men to do their job professionally and in accordance with the rule of law, warning that the National Assembly would not condone violations of human rights under the guise of fighting insecurity.