EFCC Takes Over Illegal Oil Bunkering Vessel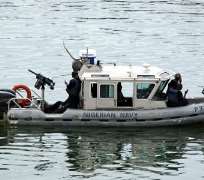 LAGOS, May 17, (THEWILL) - The Economic and Financial Crimes Commission (EFCC) on Thursday took possession of a suspected illegal oil bunkering vessel from the Nigerian Navy. The vessel, MT Takorodi, bearing one million litres of suspected Automotive Gas Oil and 11 crew members, was handed over to the Commission at a brief ceremony at NNS Beecroft, Apapa, Lagos by the Commanding Officer, Navy Commodore, M. J. O. Njoku.
The vessel and its cargo, together with the crew, were received on behalf of the EFCC by the head, general investigation and counter terrorism section of the Commission's Lagos zonal office, Mr. Aminu Aliyu. The crew include the captain, Musa Mohammed and the chief engineer, Freeborn Otuagoma.
Commodore Njoku explained that the vessel was arrested by men of the Nigerian Navy aboard the NNS Thunder on routine patrol on January 26, 2012.
"On the 26th of January, 2012, MT TAKORADI was accosted by Nigerian Navy ship Thunder on patrol. Investigations revealed that the Vessel was carrying about one million litres of AGO without Nigerian Navy clearance. Consequently, the Vessel was arrested," Njoku said.
"In view of the foregoing, I am directed to hand over the vessel,11 member crew and the cargo of about 1 million litres of AG0, to your organisation for investigation and prosecution."
He promised that the Navy would secure the vessel pending the outcome of investigations.
Preliminary naval investigations reveal that the arrested vessel lacked relevant documents.
Captain Musa Mohammed disclosed that the vessel belongs to Star Wind Management Company, Trikompi, Greece, while the ship broker is NEPS Nigeria limited, Lagos. He said the vessel was initially manned by Greeks, and was later handed over to his crew on 10th December 2011 at the Lagos Anchorage. The vessel, he also said, sailed on the 21st January 2012 to Pennington, at the request of Solution Mark Nigeria Limited, which is the owner, ostensibly to rescue MT LORD, a sister barge in distress.
However, naval investigations indicate that MT LORD was never in distress.
Aliyu collected samples of the cargo for analysis, promising that the case would be thoroughly investigated by the EFCC.