Rivers Government Confirms Blast, Says Robbers, Not BH, Were At Work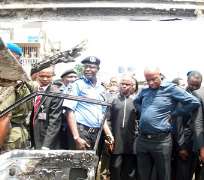 PORT HARCOURT, May 17, (THEWILL) - Thursday morning's explosion inside a bus at a busy intersection along the East-West Road at Rumuokoro in Port Harcourt was the handiwork of robbers, and not members of the Boko Haram Islamist sect, the Rivers State government has claimed.
"From time to time when armed robbers want to rob, they carry dynamites to enable them penetrate bullet proof bus that banks use," said Alhaji Muhammad Indabawa, Rivers State Police Commissioner, who also confirmed that four AK-47 rifles were recovered. "They carry dynamites when they want to rob. You can see that it was not a bomb but dynamite."
According to eyewitnesses who were at the scene a couple of minutes before the incident, two of the four passengers inside the bus were said to have alighted to join in pushing it when the blast occurred.
"The bus was carrying four passengers. Two people stopped at that point. They came down to help the driver and the conductor to push the vehicle. The vehicle was
bringing out smoke and suddenly exploded," said Thankgod Nyewe.
Emmanuel, another eyewitness, said, "I saw two dead bodies and several people were rushed to the hospital. They were four in the vehicle. It was the driver and his
conductor who died."
Eyewitnesses also said that amidst tight security provided by soldiers from the 2 Brigade, Port Harcourt, and the details of the Rivers State governor Chibuike Amaechi, the Police moved about four injured persons to an undisclosed hospital.
"There were three men. We don't know where they were going to. They were in a vehicle. They had explosives believed to be dynamites. No building was affected. The commissioner of police even confirmed that a lady selling by the road site was not affected. There is no damage on the road to show that it was bomb," the state governor, Rotimi Amaechi told reporters.
But a visibly worried Amaechi assured residents of adequate state protection.
Also, Ibim Semenitari, commissioner for Information confirmed that the explosion was the work of armed robbers. "Four AK-47 riffles were recovered from bus. Wounded were two occupants of the bus and are undergoing treatment," she said.
"The only casualty was the bus driver. Suspicion is that one or more of the bus occupants was smoking and that caused the explosion. Everything is calm now. Thankfully no passers-by were hurt, including a lady who was selling oranges by the side of the exploded bus."