BUSY SCHEDULE KEEPS KESHI OUT OF ODEMWINGIE'S WEDDING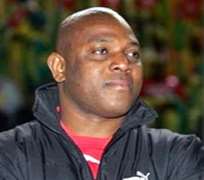 Keshi
Super Eagles' Head Coach, Stephen Okechukwu Keshi, has emphatically said that he would not attend Nigerian international, Peter Osaze Odemwingie's forthcoming high-profile wedding billed for England.
Big Boss said tight schedule for the preparation of Eagles for various matches would not allow him to honour such an invitation if it had been extended to him.
Keshi, who dropped the hint while responding to questions from Daily Sunsports if the wedding arrangement would affect his training programme, hinged his decision not to attend the wedding in the face of the enormous responsibilities before him ahead of the busy June World and Nations Cup qualifier schedules.
The Eagles' gaffer, insisting that he could only pray for the success of the wedding and wish him well, retorted: 'Why should you think that the wedding engagement of an individual would truncate the training programme involving the whole country? It is true that he might invite the players and technical crew for his wedding, but I don't think his engagement would affect us.
'For the records, if he invites me for his wedding, I will be very glad, but I cannot attend because I have a job to do. I would pray for him to have a successful wedding, if he informs me about it, but I won't attend as I'm on national assignment,' he quipped emphatically.
The former Hawks of Togo gaffer also revealed that though he was still considering the foreign-based players to invite, however, their numerical strength would not exceed a maximum of 10 or 11 players, even as he warned that all the pros invited must report to camp latest on or before May 27.
On the identity of players likely to make his list, Keshi, said: 'Players such as John Utaka, Aluko, among others, are in my list but Nigerians must wait till tomorrow to know. I'm thinking of inviting foreign players with the number ranging from 10, 11 or something close to that. 'I have not really made up my mind on the exact number because I'm not in hurry to make the list. I know what I wanted mentally, but I still have to discuss with my fellow coaches and come out with big pitches of who would make the list,' he said.
Asked the deadline for reporting to camp, the Eagles' gaffer said: 'The truth is that some of the players had a very hectic season in Europe. The English, Spanish, Italian and French leagues were very stressful for the players.
'So, for them to give me more than 100 per cent, I need to give them, at least, one week rest even though they must keep in shape. They are professionals. I trust and believe in them.
I want to say that every of them I invited must report to camp latest by May 27,' he warned.