Home Depot Sales Miss Estimates; Shares Fall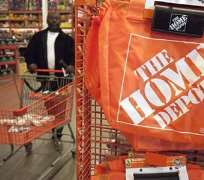 Home Depot Inc (HD.N) reported weaker-than-expected quarterly sales on Tuesday after demand slowed in April following a jump in home improvement projects spurred by warm weather earlier in the year.
The news sent shares of the world's largest home improvement chain down more than 3 percent and caused an analyst to lower his sales estimates for smaller rival Lowe's (LOW.N), which plans to report its results next week.
Spring is traditionally the biggest selling season of the year for home improvement chains. But this year, homeowners stepped out earlier to take advantage of unseasonably warm winter weather across the United States.
Sales at Home Depot rose 5.9 percent to $17.81 billion in the first quarter ended on April 29, but missed the analysts' average estimate of $17.96 billion.
"The sales miss could be linked to a mediocre increase in the average transaction value, which suggests continued so-so sales in big-ticket merchandise categories and a heavy influence from seasonal products," said Brian Sozzi, chief equities analyst at NBG Productions.
The average transaction price at Home Depot rose 2.2 percent to $54.51 in the quarter.
Sales at stores open at least a year rose 5.8 percent globally, including a 6.1 percent rise in the United States.
Wall Street analysts were looking for a global same-store sales rise of 6.5 percent in the quarter, Oppenheimer analyst Brian Nagel said.
"We believe Home Depot was comping in the high single digits in the first two months of the quarter, suggesting that April's comp was squarely in the low single-digit range," JPMorgan analyst Christopher Horvers said ahead of the company's conference call.
Horvers, who was expecting a same-store sales rise of 5 percent for Lowe's, now sees an increase of only about 4 percent.
Other analysts said expectations for the home improvement sector had been high before Home Depot released its results.
The company's net earnings rose to $1.04 billion, or 68 cents a share, from $812 million, or 50 cents a share, a year earlier.
Excluding a benefit from the termination of its guarantee of a senior secured loan, Home Depot earned 65 cents a share, meeting analysts' estimates, according to Thomson Reuters I/B/E/S.
Home Depot, which has been quicker to cut costs than rival Lowe's (LOW.N), has benefited as housing demand has picked up in regions where it has a heavy presence. It has also gained from opening more centralized distribution facilities.
The company expects sales to pick up later in the year. It sees fiscal-year sales rising about 4.6 percent, up from its prior outlook calling for a 4 percent increase. It raised its profit outlook for the year to $2.90 a share from a prior forecast of $2.79.
The outlook implies a 1 percent to 2 percent rise in same-store sales for the rest of the year, which is probably conservative, UBS analyst Michael Lasser said.
Shares of Home Depot were down 3.2 percent at $48.30 in premarket trading.
REUTERS