EL-RUFAI: TOO SMALL TO BE PRESIDENT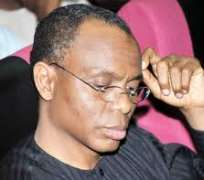 By Ross Alabo-George
If the feelers emerging from a certain camp of the Congress for Progressive Change (CPC) be true, then the former minister of the Federal Capital Territory, Mallam Nasir El-Rufai may well be contesting the ticket to be the party's flag bearer in 2015.
The Congress for Progressive Change emanated from The Buhari Organization in 2009, and still has General Muhammadu Buhari as its scion. Just a few weeks ago, General Buhari advised party elders to begin the search for a fresh arrowhead that is sharp enough to confront the PDP. General Buhari has also indicated that his days in politics are not over yet.
Mallam Nasir el-Rufai is a small man, barely a few inches over 5ft and a lightweight, perhaps less than 60kg. Without the hefty aides and security details synonymous with public office holders, Mallam el-Rufai as a minister looked really vulnerable. But to undermine him for his size is a big mistake.
Whatever he lost in size and physique, he mustered in intelligence. He is adored by his peers as a brilliant chap; so much that the current governor of the Central Bank of Nigeria, described him as the 'most intelligent man he has ever met'.
Now, if only you could conjure a picture of the calibre of people Mallam Sanusi Lamido has met in his life time - as a student in some of the best schools in the world; as a managing director of First Bank; and as the governor of the CBN- only then will you appreciate the magnitude of the glorification of his friend, Mallam el-Rufai.
For those who know Mallam el-Rufai, his size has never been a challenge to his accomplishment of crucial tasks; it has never been an impediment when it comes to rising to big moments - never. He demolished big buildings when he needed to restore the Abuja master plan; he confronted big men when he had to demolish their houses; he poked big companies when he was in charge of the Bureau of Public Enterprise; and he doesn't shy away from the big 'camera prime times'.
Academically, Nasiru El-Rufai is eminently qualified to president, but is he too small to fit into Buhari's big shoes?
There are a few similarities between General Buhari and Mallam El-Rufai: both have a firm determination to achieve their objectives; they have the bluntness to challenge authority and both in some way function with some dictatorial tendencies.
What clearly sets them apart is a simple word - Character.
After his exit as military head of state in 1983, Muhammadu Buhari displayed a tremendous level of self control. He never disparaged his successors, even those that put him through hard times.
Yes, he was a military head of state that toppled a democratically elected government - which of course remains his biggest sin (and my major issue with him) - but many Nigerians, especially members of his party, believe that the general is one of Nigeria's most credible personalities.
In fact, my kinsman Prof. Tam David-West, who was minister of petroleum during the Buhari regime, once said Buhari never interfered in his work as minister. These are common testimonies of people who worked with Buhari. However, not everybody sees the General in that light.
Testifying before the Senate Ad-hoc Committee on Privatisation and Commercialisation probing the sale of Federal Government companies in August 2011, el-Rufai threw his former boss, President Olusegun Obasanjo, under the bus. He blamed Obasanjo for his challenges at the organization and refused to take responsibility for the miscarriage of the privatization effort driven by the BPE.
He recounted how, against advice, Obasanjo allegedly appointed a former director of the BPE, who was investigated and sacked from the same agency over alleged indiscretion. Dr Julius Bala succeeded el-Rufai at the BPE in 2003.
General Buhari is known to have a better profile of loyalty to his followers than his bosses. Emmanuel Yawe, a young reporter covering the Nigeria-Chad war in 1983 gave an interesting account of the general's brave war but also highlighted a note of disloyalty.
He stated that Nigerian troops under the command of General Mohammed Buhari had occupied a good part of Chad Republic without the approval of the commander-in-chief, President Shehu Shagari.