JONATHAN CAN RUN IN 2015 -ORUBEBE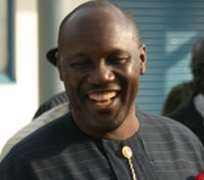 Orubebe
Minister for Niger Delta Affairs, Elder Godsday Orubebe, bares his mind on sundry topical issues, especially on his brief as minister, development initiatives in the Niger Delta, performance of President Goodluck Jonathan, the dreaded Boko Haram sect and 2015. CHIDI OBINECHE presents the excerpts.
Can you identify some of your achievements as the Minister of Niger Delta Affairs?
First, as a ministry, our mandate, as given by this government, is to fast track development in the Niger Delta and coordinate developmental activities in the region and provide a new thinking, new frameworks on the way forward for peace and security in the Niger Delta.
That was how, when the ministry was created, the first thing we did was to work with all security agencies, the state governors and local government chairmen to bring to pass the current peace we are enjoying in the Niger Delta. The ministry led the delegation, went round all the creeks of the Niger Delta and eventually amnesty came.
Today, every Nigerian knows about the benefits of amnesty as a programme. As a ministry, we have also put up a programme for youths generally in the region, providing some sorts of engagement for the non-militant youths in the Niger Delta and, so far, a lot of them are undergoing training. About 721 youths are being trained within and outside the country, some in oil and gas, some in maritime, some in agriculture, tourism and ICT.
Now, talking about the East/West Road, it is a project that was awarded in 2006 and then it was in the hands of the Federal Ministry of Works. But by 2009, the government felt that there was need to fast track the completion of the project. Subsequently, the project was transferred to our ministry in 2009. As at that time, it was 10 per cent completion but a lot of things were not right with the project. It was when we took over that the issues of designing and feasibility study were taken care of. The budgeting for the project started effectively from 2009.
That is why, as a ministry, we have backlog of liabilities and activities, concerning the road. But today, as I speak to you, the project now has a proper budget head in the annual budget of this country and then Mr. President has directed that this project has to completed between now and December 2014 and so, everything is being done to ensure that project is completed. Today, as I speak to you, that project is at about 49 per cent completion level and we are very confident that with the commitment of Mr. President and desire of this government to complete that road, we are very hopeful that by December 2014 this road will be completed. |
Right now, most of the youths from the Niger Delta and other parts of the country are trained outside Nigeria and the thinking of the ministry is that we would save a lot of money and also add to development if the youths are trained within the country. And so the ministry is constructing nine world-class training centres in the nine states of the region, one in each of the states. We are working towards the commissioning of these youth centres by the end of this year.
The centre would train our youths in oil and gas, maritime, construction, agriculture, tourism and ICT. Each of the centres for a start would take 500 students at a time and the desire of the government is that once they are commissioned, these centres would be given to private consultants to manage and we hope when that is done, the youths would be trained and engaged within the country. It will save the government a lot of money and create opportunities for other people within the Niger Delta and Nigeria.
How do you feel when you are being accused of non-performance by some stakeholders in the region despite these achievements you have enumerated?
I appreciate the concern of people that are making comments. Expectedly, anybody from the Niger Delta and even Nigeria expect certain visible things must be seen now. But people must also realise that development takes some time. This ministry came into being in 2009 and of course, there has to be planning, there has to be activities. And these projects must have to start from somewhere. As I said, it will take some time but I believe that as from late 2013, when most of these projects would be commissioned, people will then appreciate what we are doing. But I sincerely appreciate the concerns and expectations of people. We are not letting them down, they are going to see the reality of what we are doing, in fact as from late 2013.
How do you react to the views of some sections of the Niger Delta that the region is yet to gain anything from Jonathan's presidency?
The views are wrong. Even at the level of the ministry, I just highlighted certain things to you, other ministries are doing their own. There are a lot that is being done in the Niger Delta. Take for instance education, we have one additional federal university in the region. We have a number of polytechnics that have been established in the Niger Delta. People sit down, just in their homes and probably when they want something and they have not got it, they speak from their personal interests.
So many things are being put in place and as I always said it is not a question where within one month, you sleep and wake up and you see the kind of development you have in London in a place. It takes time. There is no country in the world that has developed within a short period. Development is a gradual process and I think that people should allow Mr. President to develop the region.
Mr. President is working towards that. Mind you Mr. President is from the South/South. He has been a lecturer in the South/South, he worked in the then OMPADEC, Mr. President was a deputy governor, he was a governor, tell me who is that person in the South/South that has experienced all these stages am talking about. Nobody can claim that he has more knowledge of the Niger Delta than Mr. President or more committed towards the development of the Niger Delta than Mr. President. He is more than passionate about the development of the Niger Delta, he sleeps and think about the development of the Niger Delta and Nigeria generally.
How do you react to the view that Jonathan is too slow?
When people talk about slowness, how do you describe somebody being slow? The crash programme we have run in this country have always taken us to nowhere. In this country, we have gone into projects without planning, without articulating what we should do, the benefits available from projects. We have always rushed into everything. That is why today we have not got power in Nigeria after spending billions of dollars. But Mr. President has said that anything we want to do in this country must be done well, we have to plan towards it, we have to know how we are going to do it and we have to know who should do it. And that systematically things are being put in place.
A very safe and secure foundation is being put in place for any project that is being done. And so when people talk about slowness, I really don't understand what they talk about, but Mr. President believe that in his presidency there must be a new Nigeria. We must turn things around and we must set this country for the greater level and that is what Mr. President is doing. My appeal to Nigerians is that we must have patience and understand the transformation agenda of Mr. President and I am very definite that under the leadership of Goodluck Jonathan, Nigeria will come out of the woods.
Are you not bothered that Boko Haram is overwhelming the Federal Government and it is becoming an embarrassment to this country?
What I will say is that we have a national problem and I think that it is time that the whole country should file behind Mr. President to ensure that the crisis is resolved, and I think that it is a wake- up call for everybody to understand that it not about sitting at a place and accusing the government of not doing anything. I think that it is a problem for everybody and we are all expected to play one role or the other to see that the problem is put behind us.
Every household leader, every local government leader, every state leader and every national leader should be concerned about it. Boko Haram we are talking about is a new phenomenon that has come to play and government is doing everything it can to see that it comes to an end. My position is that we should work together as brothers to ensure that there is peace in this country. That is the only way we can move forward and I think that security agencies are doing their best to ensure that the issue of Boko Haram is put behind us. But as I said, Boko Haram is a national problem and we must all unite and work together to ensure that this problem is put behind us.
I think they are clear issues. Boko Haram started long before Dr. Jonathan became President. While President Yar'Adua was alive, Boko Haram was in existence. It has got nothing to do with 2015. That time that Boko Haram came up, what were they fighting for? When President Yar'Adua was on board and Boko Haram came up, was there anything like 2015? There was nothing like 2015. Boko Haram started during the time of President Yar'Adua. As at that time there was no issues of 2015 and for anybody to say it is because of 2015 that Boko Haram came into being is total fallacy, it is not true. They have their own programmes and agenda, it is a mere coincidence that it is happening at this time but Mr. President is on top of the situation and very soon it will be a thing of the past.
Does the issue of Boko Haram likely to affect the chances of a South/South person angling for the presidency of the country in 2015?
I think we should separate the crisis and 2015. 2015 is purely a political issue, it has got nothing to do with the crisis and the political issues in Nigeria are always defined by the desire of the people to have good government and I think Nigeria has come of age, and what Nigerians appreciate is to have good government. Let us separate these things. In 2015, Nigerians are looking towards having a president they can trust, a president that can deliver, that is what Nigerians are looking for. Nigerians are not looking for a sectional president anymore, they want a president that can put food on the table of the poor, a president that can listen to the people.
Yes, of course, he is. It is the people that will decide.
If you say Jonathan fits and a lot of Nigerians believe that the country is drifting under his watch
(…cut in). Drifting to where? We have always had crisis in this country. This is not the first time we are having this type of crisis. We have had crisis of various dimensions, some in the West, some in the East, some in the Niger Delta and now in the North. I don't think this is the first time we are having this kind of serious crisis in Nigeria. We have had crisis in Nigeria when oil production went down to almost a zero level. That was a very serious economic crisis that we had but we overcame it. We have the crisis of OPC, we have crisis of MASSOB in the East, Maitsaine in the North etc. I don't think Nigeria is drifting. I think that it is one of these crises and we will overcome it and Mr. President is on top of the situation.
Some ex-militant leaders in the Niger Delta are in the vanguard of a second term campaign for Jonathan. Specifically, Asari Dokubo and Government Ekpemukpolo, alias Tompolo, have insisted that Jonathan has the right to seek re-election. Do you share the same sentiments and do you believe they are doing the right thing?
As a journalist what do you think of it?
But it is your opinion that I am asking for. What is your opinion?
You as a journalist who is open to the law of the land, does it stop Jonathan if he wants to? It is two things we must get clear from here. Every Nigerian is entitled to run for the presidency of this country. Every Nigerian when you fit into the regulations that are set for somebody to run for the presidency , now the constitution allows President Jonathan to run for a second term but the issue of whether he will run or he will not run is a personal decision. But the constitution permits him to run in 2015 if he wants to run. But it is a personal issue.
The decision is personal to him. He has not told any Nigerian, he has not told anybody that he wants to run in 2015. Today, Mr. President is faced with the burden of how to provide power for this country, to fix our roads, to develop agriculture to a reasonable level, to provide food on the table of the poor, to move Nigeria from where we are, that is the burden of Mr. President. He is bothered about how he can achieve these for Nigerians. He has not told anybody about 2015.
Do you support the ex-militant leaders that Jonathan can contest 2015?
He has the right if he wishes. He is not stopped by the constitution but that is his personal decision.
Are you aware of any commitment by President Jonathan to any individual or group, especially in the North, before the 2011 election, that he would not seek a second term ticket in 2015?
I am not aware of any commitment he made to anybody or group but all what I know when he decided to run for presidency in 2011 he called us together and told us that he was running for the presidency of this country for 2011. So, we mobilised ourselves and worked for him and today he is there. That is the story. I don't know about any meeting anywhere where he made commitment to anybody or any group. I am not aware of that.