Cisco Shares Drop On Tech Spending Concerns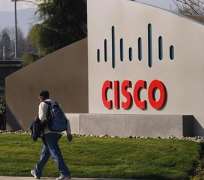 Shares of Cisco Systems Inc (CSCO.O) fell 9 percent in premarket trading on Thursday, after the network equipment maker forecast weaker-than-expected quarterly results on growing worries about the European economy and enterprise IT spending.
Brokerages including BMO, Deutsche, Nomura, Piper Jaffray and Mizuho cut their price target on Cisco's stock.
Cisco reported higher-than-expected third-quarter earnings on Wednesday but said it was "really hard to read" what would happen in the second half of the year as customers were more cautious about Europe.
The company, which relies on government and corporate spending on Internet gear, could be in for further estimate cuts if economic trends deteriorate further, said Nomura.
Cisco's comments will likely pressure stocks across the sector, analysts said.
"The weak fourth-quarter guide is indicative of near-term macro-driven uncertainty in enterprise IT spending," said Deutsche Bank analyst Brian Modoff.
Cisco's comments about its telepresence sales, which were hurt by spending cuts by governments as well as businesses, are also negative for videoconferencing company Polycom Inc (PLCM.O), BMO Capital Markets analysts said.
The tough spending environment will make it even more difficult for Polycom to fix its sales execution issues, said BMO analysts, who cut their price target on Cisco by $2 to $20.
Last month, Polycom forecast second-quarter results that were below expectations after the first quarter was hurt by lower government spending.
According to Thomson Reuters StarMine, nine analysts rate Cisco stock a "strong buy," 15 rate it a "buy," 19 have a "hold" and only two rate it a "sell." The mean price target on the stock is $22.58.
Shares of Cisco, whose rivals also include Juniper Networks Inc (JNPR.N) and Hewlett-Packard Co (HPQ.N), closed at $18.78 on the Nasdaq on Wednesday. They were down $1.65 at $17.13 in premarket trade on Thursday.
REUTERS