Okonjo-Iweala, Aganga Shun Senate Panel for The Third Time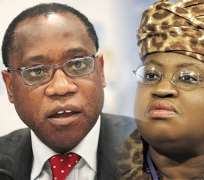 ABUJA, May 08, (THEWILL) - Minister of Finance and the Coordinating Minister of the Economy, Mrs. Ngozi Okonjo-Iweala and her Trade and Investment counterpart, Olusegun Aganga have, for the third time running, refused to honour invitations to appear before the Senate.
Both were due to appear on Tuesday before the Senate Committee on Investment to explain what has become of the Export Expansion Grant meant to encourage cotton growers in the country.
The federal government introduced the scheme to stimulate growth of the non-oil export sector and also to support the National Economic Empowerment and Development Strategy (NEEDS) objective of mainstreaming businesses that are currently operating in the informal sector.
Members of the Cotton Association of Nigeria had petitioned the committee over the several charges they were being made to pay by the NCS concerning exportation of their commodities, and begged for the National Assembly's intervention.
The Senate committee, headed by Nenadi Usman, former minister of state for finance under Okonjo-Iweala, had invited the two ministers and the comptroller general of Customs, Abdullahi Dikko to explain what has become of the scheme.
At the hearing on Tuesday, Okonjo-Iweala, Aganga and Dikko were all absent, a development that angered committee members, who saw their action as an affront on the upper house. The legislators threatened to impose the law of arrest should they fail to appear next week Monday.
An official of the Ministry of Finance told the committee that Okonjo-Iweala had sent a letter of apology. But the chairman, Usman, said, "She (Okonjo-Iweala) should have called me or sent her letter earlier instead of sending it about an hour to the meeting."
While she, along with other members of the committee, lamented that the latest invitation to appear was the third, sources close to THEWILL disclosed that Okonjo-Iweala may not want to appear before Usman, who was her junior in the executive council.
It was also believed that the simmering feud between the two women while they were both in government may have caused ministers' snub of the committee. However, members of the committee, taking turns to speak unanimously on the botched hearing, agreed to send another round of invitation letters to the three principal officers, so they can appear next week.