Wall Street Slumps After Weak Payrolls Report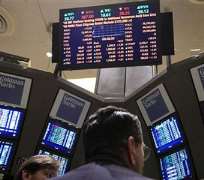 U.S. stocks slumped on Friday after a weaker-than-expected payrolls report cast doubts on the strength of an economic recovery.
The Labor Department said employers decreased hiring for the third straight month, adding 115,000 workers, below forecasts of 170,000. The unemployment rate ticked down to 8.1 percent from 8.2 percent.
"115,000 (jobs) increased the probability of (the Fed's) QE3 and that is what people are looking for. The drop in the unemployment rate was actually an unhealthy drop. You had less people looking for work, which shows a bad sentiment," said Ron Florance, managing director of investment strategy for Wells Fargo Private Bank in Scottsdale, Arizona.
"There is little you can say about that number that was good, except for the fact that it might bring in the cavalry of the Federal Reserve for a third round."
The Dow Jones industrial average .DJI was down 102.82 points, or 0.78 percent, at 13,103.77. The Standard & Poor's 500 Index .SPX was down 13.64 points, or 0.98 percent, at 1,377.93. The Nasdaq Composite Index .IXIC was down 42.82 points, or 1.42 percent, at 2,981.48.
The S&P 500 suffered its first monthly decline of the year in April, and the benchmark index has struggled to convincingly pierce the key resistance level of 1,400.
The declines Friday sent the index below its 50-day moving average for the first time since April 25.
Energy shares were among the worst performers as fears of a slowing economy sapped demand for U.S. crude oil, which fell below $100 a barrel for the first time since February.
Chevron Corp (CVX.N) dropped 1.4 percent to $104.47 while the S&P energy index .GSPE declined 1.5 percent.
Investors were also leery of placing big bets ahead of Sunday elections in Europe that could bring new leadership in France and Greece in a backlash against severe austerity measures.
The pan-European FTSEurofirst 300 index .FTEU3 fell 1.6 percent. .EU
LinkedIn Corp (LNKD.N) jumped 8.2 percent to $118.39 after the social networking website raised its outlook and smashed quarterly revenue and profit expectations.
Estée Lauder Cos Inc (EL.N) dropped 3 percent to $62.23 after the company gave a profit outlook that disappointed Wall Street.
Of the 415 companies in the S&P 500 index reporting results, 67.5 percent have exceeded estimates, according to Thomson Reuters data through Friday morning.
Fruit and fresh vegetable distributor Dole Food Co Inc (DOLE.N) said it may spin off one or more units and reported lower quarterly revenue. Shares gained 3.7 percent to $9.04.
REUTERS