Yoruba Urged To Prepare For Own Country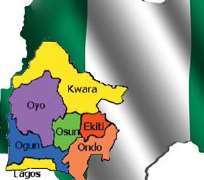 SAN FRANCISCO, May 03, (THEWILL) - Worried by the spate of bombings and killings by Boko Haram, the Islamic militant gang, Apapo Oodua Koya (AOKOYA) a Pan-Yoruba group on Friday urged the people of the South West to prepare for their own sovereignty since the battle ahead looks like a contest for an inevitable break-up of the country
The group expressed certainty that the bombing of worship places and social institutions will not stop until the country rises up to the ghost of its forceful 1914 amalgamation, and allows the different ethnic groups to determine their own future including their own strategies for the protection of lives and properties.
"We are working to see a sovereign Oduduwa Republic from Lagos to Jebba, and Lokoja plus the Itsekiri part of Delta and as soon as possible. It is now certain that the practical solution to the unending crisis since Nigeria's forceful amalgamation in 1914 is the peaceful break-up of the country," argued a statement signed by AOKOYA's director of media affairs, Mr. Saliu Akinkunmi.
"We have the opportunity now to do it under the United Nations, (UN) supervision. We are a country bound with irreconcilable differences. This historical fault lines and cleavages continue to sharpen our differences and show an inherent, irreversible violent clash of values and civilization. The Nigerian system cannot bring out the best political and social elements from the Yoruba Nation. The time for Oduduwa Republic is now."
The statement described Nigeria as "under a corrupt, inept, naïve and self-destructive, spineless political class," that has enthroned poverty, pain and anguish as the daily companions of the people.
"These indices will continue to fuel violence and aggression," the statement added. "Most politicians came to power through violence and brigandage. We are an enslaved nation and no visionary leader can emerge in this poor context. The solution is for every ethnic group to go its own way. We, as an organisation, shall work to actualise this historical dream for the Yoruba Nation.
AOKOYA stated that while blame is being heaped on President Goodluck Jonathan, his critics have been offering half-measure solutions by dodging the real issue which is ethnic self-determination.
The release further states, "No President of Nigeria can make any difference given the moribund foundation of the Nigerian state. We observe that since 1914, the country has been a fierce battle ground for primordial ethnic powers, with one trying to outdo the other, resulting in violent clashes and unending loss of human lives.
"In this contest, the Hausa-Fulani is not prepared to relinquish power for a minute. This has been responsible for the group's preference for military coups having seized the structure of the military since the pre-independence era. The bombings we see today are orchestrated to cause a state of anarchy and scuttle democratic culture."