NOLLYWOOD DIRECTOR,JETA AMATA RELOCATES TO US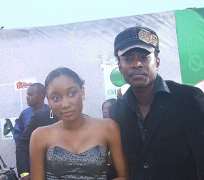 As you read this,Nollywood producer and director,Fred Amata's nephew,Jeta,is living the good life in Hollywood,Los Angeles,the home of movies and music stars.
Jeta,who is the first son of ace actor Zack Amata and the grandson of foremost actor,Ifoghala Amata,moved to the United States in 2010 from where he has been shuttling to Nigeria to make block buster films.
Jeta made Amazing Grace in 2006,a feat which brought him instant world acclaim.
Amazing Grace,is the story of British slave trader John Newton's voyage to West Africa and the events that inspired him to write the world's most popular hymn,Amazing Grace.
The movie stared Nick Moran,Scott Cleverdon,Fred Amata,Keppy Ekpenyong and Ubong Udongide,whom he married later in 2008.
But Jeta hit it big last year 2011,when he produced the movie Black Gold,the story of one local Niger Delta community's struggle against their own government and a multi-national oil corporation who has plundered their land and destroyed the environment.
The movie stars top Hollywood actors,Vivica Fox,Eric Roberts,Michael Madsen and Tom Sizemore.
But what made Jeta hit,was the glamour premiere he pulled in Hollywood last year,where all these actors attended and half of Hollywood took a holiday to attend.
The event was even organized by top promoter,Don King.
Since after that premiere,Jeta has melted into the Hollywood crowd and right now,has two jobs lined up for him.
Following that success,Jeta who started out as the producer of the Nollywood film,Glamour Boys,has brought a condo in Hollywood and had taken his wife Ubong and daughter to reside with him at Barack Obama's country.
Apart from Amazing Grace and Black Gold,Jeta's other big films include Alexa Affair,Mary Slessor and Inale.
Inale was produced by legendary musician,Bongos Ikwue's daughter,and starred Dede Mabiaku,Ini Edo,Ubong Amata,Bongos Ikwue and Keppy Ekpenyong among others.