NLNG, EFCC Seek End To Corruption In Oil And Gas Industry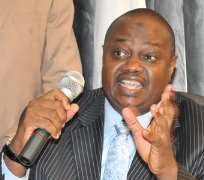 ABUJA, April 30, (THEWILL) - The Chairman of Economic and Financial Crimes Commission (EFCC), Mr. Ibrahim Lamorde has described the oil and gas industry as critical to the nation's fight against economic and financial crimes.
Lamorde said this on Monday while receiving the management of Nigeria Liquefied Natural Gas (NLNG), who paid him a courtesy call at the Commission's headquarters in Abuja.
Congratulating the Managing Director and Chief Executive Officer of NLNG, Mr. Babs Omotowa on his recent appointment, the EFCC boss noted the strategic position of the oil and gas sector as the nation's chief revenue earner.
"NLNG is an important player in the Nigerian economy and, in fact, gas is gradually gaining prominence over oil, which makes it imperative that your organisation should live above board and be seen to be actually so," Lamorde said. "The steps you have put in place, such as the whistle-blowing mechanism, are in line with what we do here; and we are ready to support you in that regard."
Earlier in his speech, the chief executive officer of NLNG, Mr. Babs Omotowa said his team was at the Commission to congratulate Lamorde on his appointment and to seek the his assistance in their bid to fight internal corruption.
"We are here because we are committed to high principle of ethical value and we have in place anti-bribery and anti-corruption policies," he said. "It is
in recognition of the expertise and knowledge of EFCC in this area that
we have come to solicit for support and cooperation."
Omotowa assured EFCC of a corruption free NLNG, saying: "We have established an internal anti-bribery and corruption policy with a zero-tolerance for such. We also have a whistle-blowing scheme, which helps in internal reportage of corrupt incidences and we are seeking for the full support of EFCC while assuring of our support."
Omotowa was accompanied on the visit by Alhaji Bashir Koko, deputy managing director; Ms. Sienne Allwell Brown, general manager (external relations); Dr. Audu Eresiake, manager (government relations); ChiefCharles Okon, manager (corporate security service) and Kabir Aminu, security advisor.