Police Commissioner Escapes But Seven Die In Taraba Bombing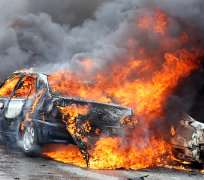 JALINGO, April 30, (THEWILL) - Some 24 hours after the bombing and shooting of Christian worshippers at Bayero University Kano (BUK), a fresh bomb blast on Monday in the northeastern town of Taraba has killed seven people, albeit the state's Commissioner of Police, Mr. Maman Sule, who was ostensibly the target of the attack, escaped.
The Police deputy public relations officer, Mr. Frank Mba confirmed that the blast occurred at 8:45am at Kebbi roundabout in the heart of the state. The roadside bomb was triggered as Commissioner Maman passed the scene en route to his office.
"I saw the blast happen," an eyewitness said. "It was apparently targeted at the commissioner of police who was passing the vicinity. The motorcycle outrider on the commissioner's convoy is among the seven people I saw dead."
Also, Mba said that three of the suspected bombers died instantly while an outrider on the commissioner's convoy was injured. He also debunked rumours that there had been similar blasts in Adamawa and Gombe states, saying "The states are calm; we are working with other agencies and want to reassure Nigerians that this will soon be over."
Meanwhile, the northern city of Kano is still smarting from Sunday's blasts, which, according to latest reports, has seen the death of at least 21 people, with dozen others lying critically injured at the Mallam Aminu Kano Hospital and Murtala Muhammed Hospital.