Falcone Gets Extension In Lightsquared Creditor Talks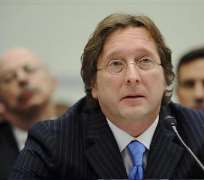 Hedge fund manager Philip Falcone's LightSquared is avoiding a default for now on about $1.6 billion of debt after creditors of the upstart wireless telecom company agreed to extend negotiations for a week, source familiar with the matter said.
The holders of LightSquared's debt, who include billionaire investor Carl Icahn and hedge fund manager David Tepper, had given Falcone's Harbinger Capital until 10 a.m. Monday to strike a deal for restructuring Harbinger's 96 percent equity control of LightSquared, the source said.
The debt holders were threatening to declare a default on the loan in the absence of a deal by Monday morning, which could have forced a bankruptcy.
"Both sides have agreed to a one-week extension to negotiations," the source said on Sunday.
Other debt holders include hedge funds Fortress Investment Group, Knighthead Capital Management, Redwood Capital Management and investment firm Capital Research and Management Co.
Reuters last week reported that LightSquared's debt holders were joining forces and lining up against Falcone by hiring high-powered bankruptcy attorney Thomas Lauria, who heads White & Case's global restructuring group. Lauria did not respond to e-mails or phone calls seeking comment on the negotiations between debt holders and Falcone.
The debt holders increasingly see Falcone as an obstacle to negotiating with the Federal Communications Commission and opponents of the company, some of whom contend LightSquared's planned nationwide high-speed wireless network will interfere with global positioning systems used by the U.S. Department of Defense, the aviation industry and other businesses.
A number of representatives for some of the hedge funds that own LightSquared's debt have said in interviews over the past few weeks that Falcone needs to greatly reduce his hedge fund's equity stake in the company and relinquish control over decision-making authority.
In February, the FCC withdrew a conditional waiver that would have allowed LightSquared to begin building out its mobile network because of the GPS interference problems. Without the waiver, LightSquared is severely limited in moving forward with its plans.
Falcone, in an interview with Reuters earlier this month, said he did not consider himself an obstacle to negotiating with the FCC and critics. He also said he was considering putting LightSquared into a voluntary bankruptcy. Falcone did not respond this weekend to an e-mail seeking comment on the talks with creditors.
Falcone has said a bankruptcy would not necessarily wipe out his hedge fund's considerable equity stake in LightSquared because its operating spectrum licenses still retain value.
LightSquared's fate has become an important concern for investors in Falcone's $3.8 billion hedge fund, which has sunk roughly 60 percent of its money into the telecom startup. The success or failure of LightSquared will go a long way in determining Falcone's legacy as a money manager.
Besides Falcone, investors in Harbinger Capital stand to be the big losers in a bankruptcy or a negotiated restructuring of LightSquared as the value of the hedge fund's equity investment would be diminished.
Last year, Harbinger posted a 47 percent decline in value, largely because of a write-down on the value of the fund's LightSquared investment.
REUTERS