Blame PDP For Boko Haram Killings - Azazi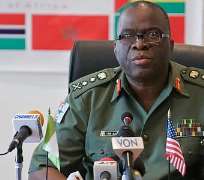 SAN FRANCISCO, April 27, (THEWILL) - National Security Adviser, Andrew Owoye Azazi has blamed terrorist attacks sponsored by the Boko Haram Islamist sect on internal squabbles of the ruling People's Democratic Party (PDP).
Azazi was speaking on the second day of the ongoing South-South Economic Summit, where the current security challenge of the country was discussed.
"The extent of violence did not increase until the declaration by the current president that he was going to contest," he said. "PDP got it wrong from the beginning, from the outset by saying, 'Mr A can rule, Mr A cannot rule' ... according to PDP's convention, rules and regulation and not according to the constitution and that created the climate for what has manifest itself."
He linked the bombings, suicide attacks and jail breaks raging in the North to "politics of exclusion" of the PDP in the region, and condemned the politics of anointing candidates as well as the "do-or-die attitude" of the political party.
"Why is it possible that somebody was thinking that only Mr. A could win, and that if he could not win, there would be problems in this society?" the former Chief of Defence Staff (CDS) queried. "Let's examine all these issues to see whether the level of violence in the North East just escalated because Boko Haram suddenly became better trained, better equipped and better funded, or something else was responsible. It takes very long for somebody to be a sniper."
Admitting the sect's sophistication, he assured that government is aware of the enormity of the task ahead, he said, "I can assure you that Boko Haram can garner that level of sophistication over time, if it has not got it already. There are a lot we know that they are doing, and there are a lot that could be done to address the problem.
"But, then I must also be quick to point out that today, even if all the leaders that we know in Boko Haram are arrested, I don't think the problem would end, because there are tentacles. I don't think that people would be satisfied, because the situations that created the problems are not just about the religion, poverty or the desire to rule Nigeria. I think it's a combination of everything. Except you address all those things comprehensively, it would not work."
But he warned that the use of force alone would not quell the tension, calling, instead, for a "collective effort" to address the economic problems of the North.
"It is not enough for us to have a problem in 2009 and you send soldiers to stop the situation, then tomorrow you drive everybody underground," he said. "You must look at what structures you need to put in place to address the problem holistically. There are economic problems in the North, which are not the exclusive prerogative of northerners. We must solve our problems as a country."