Deputy Speaker, CNPP, Others Condemn Bomb Attacks On Media Houses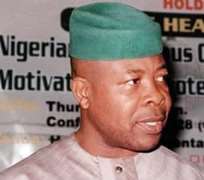 ABUJA, April 27, (THEWILL) - Deputy Speaker of the Federal House of Representatives, Rt. Hon. Emeka Ihedioha has condemned, in very strong terms, Thursday's bombings of the Abuja and Kaduna offices of Thisday and Sun and The Moment Newspapers, describing them as "unholy, unwarranted and uncalled for."
In a statement signed by Oke Epia, his chief press secretary, Emedioha observed that the role of journalists is critical to nation building and to the growth of democracy, and warned that bomb battles against journalists and media houses would not do the nation any good.
"Let me appeal to those behind this battle against the media to kindly sheath their swords and give peace a chance," he said.
Commiserating with the management and staff of the affected media houses, he said, "Be assured that the legislature shares in this grief and will continue to engage with relevant stakeholders to bring this menace to a halt."
Similarly, the Conference of Nigerian Political Parties (CNPP) joined the league of groups that have risen in condemnation of the attacks, suspected to have been orchestrated by Boko Haram insurgents.
In a release signed by Osita Okechukwu, its national publicity secretary, CNNP said it regarded the bombings as an attack on the much-cherished freedom of the people, which, so far, is the only dividend of the nation's democracy.
"CNPP wishes remind the masterminds of Boko Haram that they are holding the wrong stick of history, for history has no record of any place violence has redressed any grievance, especially in a democracy," the statement noted.
"We are of the candid view that Nigeria will remain a secular united state, as nobody has the powers to evacuate either Muslims of the South to the North, or Christians of the North to the South, in the same vein the abject poverty in the North is also prevalent in the South. In sum, we call for sheathing of the sword and a new chapter on deep thought of how best to reposition our dear country to utilise and enjoy its abundant human and material resources...."
Also, governors of the six South-South states of the country who are attending the ongoing South-South Economic Summit in Asaba, Delta State, issued a joint statement on the attacks, describing them as barbaric and cowardly.
Questioning the motive of the attacks, which "coincided with the summit where the publisher of Thisday, Mr. Nduka Obaigbena, is playing a pivotal role," the governors urged the security agencies to ensure that perpetrators of the attacks are apprehended and made to answer for their heinous crime.
"We totally condemn the bomb attacks on the premises of the ThisDay Newspaper in Abuja and Kaduna state. It's barbaric, cowardly and condemnable," the statement, signed by Seriake Dickson of Bayelsa State, Rotimi Amaechi of Rivers State, Godswill Akpabio of Akwa Ibom State, Liyel Imoke of Cross River, Adams Oshiomhole of Edo
and Emmanuel Uduaghan of Delta, noted.
It called on "security agencies to fish out the perpetrators of this heinous crime and bring the full weight of the law to bear on them."