N21B Loan Scam: Bukola Saraki Lied About Court Order Restraining Police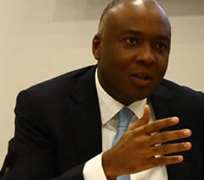 SAN FRANCISCO, April 25, (THEWILL) – THEWILL can report that Senator Bukola Saraki lied when he issued a press statement Tuesday through his media aide claiming that Justice Gladys Olotu had approved an order restraining the police from questioning him concerning his alleged role in the theft of N21 billion belonging to Joy Petroleum Limited, a company believed to be controlled by the serving senator through a front, an aide who died some months ago.
THEWILL checks at the court revealed that Saraki, through his legal counsel, Lawal Rabana, SAN had sought an order in chamber from a Federal High Court in Abuja to restrain the police from interrogating him concerning the alleged fraud, forgery and theft, but Justice Olotu declined the ex-parte application and instead ordered that the police be served with the motion on notice for the application to be heard on Thursday.
The senator curiously issued a widely circulated release through his aide, Akintoba Fatigun claiming that the court had restrained the Inspector General of Police, Mr. Mohammed Abubakar and the police force from interrogating him.
The Police Force has hired Mr. Femi Falana to represent it in court.
Before Tuesday's misleading and dubious release, Saraki had last week issued another statement on April 18, 2012, denying owning a stake in Joy Petroleum Limited following an alleged fraudulent bank loan that the firm obtained from the defunct Intercontinental Bank Plc, which was eventually written off singlehandedly by then bank managing director, Mr. Mamoud Alabi, whose appointment as head of then ailing bank was facilitated by the senator.
The ownership of the premium properties used as collateral to obtain the loan has since been traced to Bukola Saraki, who also served as Kwara State Governor between 2003 and 2011.
The two statements from Saraki are reproduced below.
1. "The attention of Senator Abubakar Bukola Saraki's media office has been drawn to a media report titled: "Police Nab Former managing Director of intercontinental Bank, Alhaji Layi Alabi over bank loan fraud relating to Senator Saraki.
"We are aware that there is a petition that was submitted by the brother to Senator Saraki's former Personal Assistant Mattew Obahor of blessed memory to the special anti-fraud unit of Nigerian police over a company called Joy Petroleum.
We want to categorically state that Senator Saraki is not and was never a shareholder of any Joy Petroleum company; the company was that of his formal Personal Assistant, Late Mattew Obahor.
"Unlike it is being insinuated that Mattew was assassinated under questionable circumstances, we want to state categorically that Mattew was a diagnosed diabetic who was flown to different parts of the world by Senator Saraki for treatments but later gave up his battle to Diabetics after 10 years of battling the disease. He died in 2010 through diabetic coma in a hospital. Records are available which can support this.
We are also aware that this matter as related to loans with Intercontinental Bank which was thoroughly investigated and thrashed out by all appropriate authorities years back after receiving all manner of investigation. It should be recalled that it reoccurred during Senator saraki's presidential bid and again thrashed out and we are once again surprise it is resurfacing.
"The attempt to link this baseless petition to Senator Saraki is purely a blackmail and character assassination; it is surprising that we are coming back to this again in 2012 which is a distraction and the timing is very questionable.
"Senator Saraki continues to reassure his constituents and country that he will play his legislative role even at this crucial time of our polity."
2. "Senator Saraki Secures Restraining Order Against Police
"To protect his dignity and prevent further harassment, Senator Bukola Saraki has obtained an interim injunction restraining the Inspector General of Police, his officers and agents from threatening to arrest him or infringe on his rights pending the determination of the substantive suit on Thursday, 26th May 2012.
"The motion of notice, which was filed in Federal High Court 4, Abuja by his lawyer, Lawal Raban, SAN, was served and duly received by the Commissioner of Police, Legal today.
As a law-abiding citizen, Senator Saraki has decided to seek legal redress to put a stop to what appears an orchestrated frenzy calculated at smearing his name, assaulting his dignity and intimidating his person through deliberately garbled accounts and serial leaks concerning loans granted to a company that he has no relationship with.
"Senator Saraki is indeed in receipt of a letter from the Police Special anti-Fraud Unit, Lagos, inviting him to assist its investigations of a case of "conspiracy, forgery and stealing the sum of N21, 000, 000, 000 (Twenty-One Billion Naira) belonging to Joy Petroleum Ltd." Senator Saraki has made it clear on many occasions that he has no relations with Joy Petroleum and wishes to restate so.
"While taking note of and displeased with the tendentious attempts to prosecute and persecute him on the pages of the media, Senator Saraki has asked the court to determine whether he could be invited by the police to assist in investigating a matter in which he is not linked and for which no specific allegation has been made against him.
"Senator Saraki wishes to assure all Nigerians that he has nothing to hide and he remains a law-abiding citizen but that he also has a responsibility to protect himself under the law against what increasingly appears a deliberate smear campaign designed to abridge his rights and muzzle his voice.
Akintoba Fatigun
Media Aide to Senator Saraki."