Weak Northern States Should Be Merged, Says Former NDDC Boss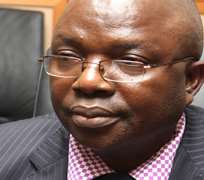 ASABA, April 23, (THEWILL) - Niger Delta Peace Ambassador and advocate, Pastor Power Ziakede Aginighan has said that states that are economically weak in the country should agree to be merged with more viable ones.
Aginighan was speaking with journalists at the burial ceremony of the mother of the Delta State PDP women leader, Barrister (Mrs.) Felicia Adowei-Ajagu at Ovwian, Udu Local Government Area of the state, where he had represented South-South leader and former Information Minister, Chief Edwin Clark. He implored the federal government to make provision for fusion of weak states in order to reduce overhead and cost of governance in the country.
Lamenting the rancour between some northern elites and their counterparts in the South-South on the existing revenue allocation formula under which oil producing states get 13 percent derivation, he specifically chided northern governors for calling for the reduction of 13% oil revenue accruing to the Niger Delta. He branded their demand as an invitation to trouble.
He maintained that instead of calling for a reduction of the revenue allocated to the region, states that are running bankrupt in the north and are overburdened with the cost of running their governments should merge with the economically viable ones.
"Many of these states are not viable. Some states cannot even pay salaries of their workers and that is the reason why some states in the North are clamouring for the reduction of the derivation funds, which the oil producing areas of the south-south even find inadequate," he argued.
"There should be provision for merger of these weak states. States that are not viable should merge so that they can have reduced burden of governance while states that are to be created should be states that are economically viable."
He cautioned against creation of new states without first looking at their economic viability, as this would further deepen the nation's problems. "Economic viability must be an indispensable factor in considering new states that must be created and not just political exigency," he added.
Aginighan also spoke on other issues, such as the convocation of a Sovereign National Conference (SNC), which he described as a panacea to some of the problems confronting the country.
He stressed that the country is drifting toward a point where all ethnic groups have to come together to define the basis of their continuous coexistence, adding that the senseless killing going on in the country is an indication that dialogue is needed.
Additionally, the former acting managing director and chief executive officer of NDDC expressed concern over the nation's electoral laws and judiciary system, lamenting a situation where electoral offenders are not punished by the law.
"It is every sad that despite the fact that our status books have provision for election offenders, I'm yet to have a result of any election offender serving a jail term in this country," he said, adding that the snatching of ballot papers, rigging of elections and taking over government seat at various organs of government without earning the vote of the people is equivalent to treasonable felony."