Air Nigeria Passengers Petition NCAA Over Loss Of Luggage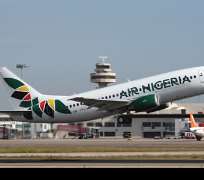 SAN FRANCISCO, April 22, (THEWILL) - Seven passengers who travelled from Lagos to Abuja aboard an Air Nigeria airline on Sunday morning have petitioned the director-general of the Nigerian Civil Aviation Authority (NCAA) over the loss of their luggage, which the airline has not handled appropriately.
The passengers — Abdullahi Wokili, Oguaghamba Akudo, Amazodo Michael Chukwudi, Shina Olukareh, Babawarun Oloruntoba, Hassan Mohammed Wada
and Badejo Bidemi — said the Air Nigeria Flight No VK 041 left Lagos at 10.50am on Sunday but failed to deliver their luggage on arrival at Abuja.
"On reaching Abuja, the Air Nigerian Officials carelessly informed us that our luggage was left behind in Lagos without any reasonable explanation and without any willingness to take appropriate responsibility," they complained in the petition. "Majority of us were on transit, including a young school boy going to Nassarawa."
In the petition, which was also sent to the Minister of Aviation, the DG of the Consumer Protection Council, the DG of the State Security Service and the GMD of Air Nigeria, they pleaded with the NCAA DG to help them secure redress and necessary action against the airline.