MEN JUST WANT TO USE AND DUMP ME -RONKE OSHODI OKE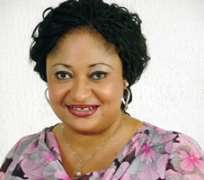 She is well endowed both mentally and physically. But not many people know that she's brainy, they only rate her by the size of her bust. To tell the truth, Ronke Ojo became popular for her lead role in Ronke Oshodi Oke, a movie that parades her as a woman that can move mountain with her big boobs. Since then, movie buffs have not stopped calling her Ronke Oshodi Oke.
In a recent encounter with The Entertainer, the pretty actress, who has earned more laurels as a comedian, opens up on her love life, love for comedy and her yet-to-be-released Yoruba epic, Osun Sengese among other issues. Enjoy it.
What was your growing up like?
I grew up in a lovely family. We love each other and we are always there for one another. My father was once a Custom officer before he had problems. After the problems with the Customs, things were a bit rough at home but to God be the glory here we are today.
I played so many pranks as a young girl. My mom was a teacher and you know teachers are very strict so, she ensured that I was well disciplined.
How long ago have you been acting?
This is my 14th year in the movie industry. I have been a lover of movie since I was very young. Then I was obsessed with India films on LTV 8. I also used to watch soap operas staring people like Yinka Quadri, Oga Fala and others. I have been a lover of entertainment and it has been in me right from childhood. During my primary and secondary school days, I was very active in the cultural group. After my secondary education, I made my intention to act known to Muftau Oladokun popularly known as Alaran and he welcomed it. I then picked up a form of N500 – the form used to be N1000 but I paid N500. It used to be Star Parade then at Fadeyi. It was a caucus of Muftau Oladokun (Alaran), Baba Ojoge, Baba Otolo, Lola Idije, Lekinson, Bose Olubo, and Oyinda, Kukute.
What kind of production were they doing?
It was home video, which is a bit different with Yoruba movies. You have to undergo training before you feature in any Yoruba movie. We had a rehearsal ground where we used to sing, dance and act just for you to have the idea of what you want to do.
What was the first production you did with Alaran Theatre Group?
I started with a stage production entitled, Ogun Ahoyaya. It's a joint production, which involved all associations of theatre practitioners. The play was staged at the Eyo Festival. Initially, I joined the group because I could sing. So, when I got there they tested my voice and were satisfied with it and then said I could join them. I was fortunate because for a new person to start with a stage production is a very big task. The stage is not like a movie where the director will direct on what to do, it is far different from it.
Did you go through an audition?
It was not really an audition. I was just fortunate, it wasn't audition; I was just fortunate to be part of the production. I played the role of Eletu's wife. It's a story of Lagos. Eletu was a character in the production and I played his wife. It was a play written by Prince Jide Kosoko and was directed by Leye Owolo.
How challenging was the role and were you paid for it?
Not at all, I was not paid for the role but it is what I love doing. I didn't experience any stress, it was what I love doing because I like challenges a lot. After the production, we started doing some home videos. I featured in Shattered Dream, Died Wretched, Lagos Boys 1&2, and one or two soaps on NTA then that I couldn't remember the names now.
Yes, they were all produced in English language.
Which role have you played that you'll describe as more challenging?
Two roles. The first was about 10 years ago where I acted as an elderly woman. It was a film written by Uncle Wemimo and entitled, Kodun Kopo Kope (KKK). I played the role of Bimbo Oshin's mother and we are mates, I was still young and very slim then. It wasn't easy but I took it as a challenge because I like challenges. And to God be the glory becuase people like the movie. Then, my first comedy film entitled, Gbajumo. It was produced in 2005. The challenging thing about the film was that it was my first comedy role, and I was the producer of the film.
Did you write the story?
Yes, I wrote it but it was directed by Saheed Balogun, he gave me the idea and I wrote something on it. He was the major character in the film and also directed it. He did so many things while we were shooting the movie. He also encourages me a lot.
Apart from acting, what other things do you do? Are you also into business?
No, but I would like to go into business.
What do you do at your leisure time?
I am a very homely person, I don't go out. I use my leisure time to stay at home and play with my family especially my daughter.
Divorce is very rampant in the industry, what is your reaction to this?
I wouldn't say divorce is rampant in the industry; it is rampant in the world of today. That is what is going on everywhere. It is the problem of the modern day. If I am not an actress and I am not destined to have a settled home, I wont have it. If I am actress and I am destined to have a settled home, I will have it. Some people say that the nature of our job creates room for unsettled home. No, it is not so. It is because we are in the limelight. It is happening in every family. It is a naturally thing. As far as I am concerned, troubled marriage has got nothing to do with our profession. Any man that approaches me should know what I am doing and if you love me, you will love me with whatever that makes me happy. Marriage is like a contract that you are not expected to breach. If your partner is okay with you, then go on with it.
What makes you happy?
I am happy when I am on set. Whenever I am on set, I feel good seeing my colleagues and doing what I know how to do best. That is my happiest moment. I am very passionate about acting.
How are you coping with male admirers?
Talking about relationships, my brother, I have had my share of disappointments and heartbreaks. I discovered that some men just wanted to use and dump me but they didn't know that I've leant my lessons, and I have learnt to move on unhurt.
What turns you off?
It is when people ignore me. For instance, I was in a bank recently and a lady came to hug me. I was on a queue and there is one thing about me, I don't like raising eyebrow because as far as I am concerned, we are all equal in the presence of God. But I was there on the queue for 15 minutes and the cashier was just looking at me as if he did not know me. On getting to him, he stupidly said 'even if you use eye shades we recognize you' but I have been standing on the queue for more than 15 minutes and all the bank staffs pretended they didn't know me, only to get to the counter and see them all laughing. I said 'so you all know me and I've been standing there all this while'. It was embarrassing to me. Look, I use GTB and whenever I get into the banking hall, they attend to me quickly. I will even be the one to tell them to attend to other people before me, that we are all equal. Sometimes, people will meet me on the road and ask me to greet them first. It is funny to me because I don't know who you are; it is you that knows me. You are supposed to say 'hi' and if I did not reply, you can then complain. If I get on the street and start greeting everybody, won't they say I am mad? Some even abuse you that you are arrogant but I just smile on such occasions. If you are dealing with the public, there are some nuisances that you just have to ignore.
Can you talk briefly on your new epic, Osun Sengese?
It is my first traditional movie and secondly, I am a Christian and I know there is God. When I was in the US, I discovered that what we call rubbish here in Africa are the things the Whites treasure as gold. They adore it but we, the originator, abuse it. Our culture is dying gradually. So many things are wrong, the world itself is collapsing; everything is going upside down.
I was at Osogbo some few weeks back before I traveled to the UK with Yemi Elebuibon. I went for research together with Bayo Tijani, Seun Olaiya and Abey Lanre, the directors of the movie. We went there to do some research because the film we're doing will make some people ask question. So, we wanted to perfect the film to an extent that even if they criticize us, there will be a limit. We also wanted to convince people that we know what we are doing. At Elebuibon's place, we met an American and some people from Brazil, UK, France and so on. The most amazing part of it was that the American is a Babalawo (Herbalist), a white man for that matter. The one from France is Iya Mogba, they were all looking at my palms and prophesying my future.
That takes me to my film, Osun Sengese. It is a play that preaches against discrimination in our religion. And it also tells people that Osun was the first woman in Yorubaland that actually fought for women. She was the first female activist in Yorubaland. I did not know all these until I started doing research about the play.
When will it be out?
Well, let's leave that to my marketer, Corporate Pictures.
How many movies have you written or produced?
Apart from Osun Sengese, I have written and produced 12 movies. I love all my movies but the one I love most is Ife Lakoja Ofin. I love the story line.