JONATHAN'S 2015 AMBITION CAN BREAK UP NIGERIA - NORTHERN LEADERS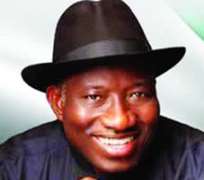 As the debate on the eligibility of President Goodluck Jonathan to contest the 2015 presidential election continues to heat up the polity, two northern leaders have warned that the crisis the re-election bid will cause is capable of breaking up the country. As a result, they want President Jonathan to apply caution and remain committed to his publicly declared campaign promise not to contest the next election in his interest and that of the nation.
Outspoken former governor of Kaduna State, Alhaji Lawal Kaita and controversial National Vice Chairman of the pro-North socio-political organization, Arewa Consultative Forum, ACF, Senator Joseph Kennedy Waku, who gave the words of caution, spoke against the backdrop of recent actions and comments credited to the president, the ruling Peoples Democratic Party, PDP and some South-South leaders.
Both President Jonathan and the PDP had, in two separate affidavits filed at a Federal Capital Territory High Court, Abuja earlier this week argued that Jonathan is eligible to contest the 2015 presidential election based on provisions of the 1999 constitution. Their position was in response to a suit filed by a chieftain of the PDP, Cyriacus Njoku, who is seeking an order of the court to stop President Jonathan from contesting the 2015 presidential election on the grounds that he can't take the oath of office three times, since he 'first took an oath of office as substantive president on May 6, 2010 and took a second oath as President on May 29, 2011.'
The party and the president's position is coming on the heels of recent comments by two of his prominent kinsmen; first republic information minister, Chief Edwin Clark and leader of the Niger Delta Peoples Volunteer Force, Asari Dokubo, stating that President Jonathan must be allowed to remain in office beyond 2015.
Northern leaders, who believe these actions and comments are too suggestive to be ignored, have therefore, been shooting from all angles. Expressing his displeasure over the suspected ambition of President Jonathan, 79-year-old former governor of Kaduna State, Lawal Kaita warned the president not to venture into the 2015 race.
'All I want to say is: I will advise him (Jonathan) not to contest,' he declared, in a brief interview.
On his part, Senator Waku, who called from his base in Washington DC, USA, to add his voice to the raging debate, warned: 'President Jonathan should not even contemplate making any move to contest the 2015 election because such will be dishonourable, immoral, satanic and catastrophic.'
He added: 'Those who are close to the president, if they like him at all, should warn him not to do things that can break up this country and put him on the sad notes of history. Instead of running campaign errands for him now, they should urge him to tackle daunting challenges facing the nation, such as insecurity, high unemployment, poor power supply and lack of food for the masses. These are the things he owes millions of our people whose votes were either given to him or stolen during the last election.'