Mugabe Urges Peace Ahead Of Zimbabwe Elections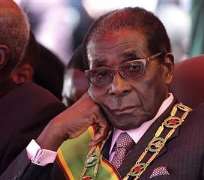 Zimbabwe President Robert Mugabe on Wednesday urged political parties to ensure a looming general election is peaceful, amid a rise in violence that he blamed on ambitious politicians staking claims as candidates.
"It's very sad that we are seeing ugly fights in constituencies sponsored by sitting members of parliament and potential candidates," he said at a rally to mark 32 years of independence from Britain.
Critics and opponents say Mugabe hung on to power in a 2008 election by rigging polls and allowing independence war veterans and the youth brigade of his ruling ZANU-PF to attack opposition candidates.
Addressing the rally, Mugabe, 88 years old and Zimbabwe's ruler since independence, also said ZANU-PF would not back down from a highly criticised drive to force foreign firms to surrender majority stakes to locals.
The empowerment plan was meant to correct colonial injustices, he said.
Mugabe was forced into a power-sharing deal with long-time foe and now Prime Minister Morgan Tsvangirai after the 2008 election, which Western powers said was marred by ZANU-PF violence and intimidation.
Under the terms of the deal, elections must be held by next year with political reforms and a new constitution in place.
Tsvangirai slammed the drive against foreign firms as "greedy looting" and "political jingoism."
"We have disagreed in this government because there are others who want to perpetuate the old culture of expropriation, looting and self-aggrandisement clad in new and misleading nomenclature such as indigenisation," he said in an independence day statement.
Critics said the "indigenisation" drive is more aimed at filling ZANU-PF coffers ahead of elections than helping the majority of the population who struggle to get by on less than $1 a day.
On Monday, Indigenisation, Youth and Economic Empowerment Minister Saviour Kasukuwere, a ZANU-PF member, told Reuters that Harare expected to finalise the transfer of majority stakes in foreign mining companies to local blacks by the end of April.
Resource-rich Zimbabwe has the world's second largest platinum reserves after neighbouring South Africa, as well as lucrative gold and diamond deposits.
REUTERS