Jonathan Seeks An Upward Review Of 2012 Budget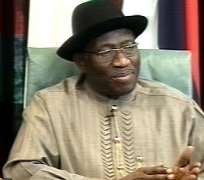 ABUJA, April 17, (THEWILL) - Less than a week after signing the 2012 Appropriation Bill into law, President Goodluck Jonathan is seeking the approval of the National Assembly to make adjustments to certain aspects of the Act.
In a letter to the Speaker House of Representatives, Hon. Aminu Waziri Tambuwal, Jonathan asked for an upward review of allocations to the Niger Delta Development Commission (NDDC), that of the Universal Basic Education (UBE), and some aspects of the Federal Government's amnesty programme in the Niger Delta.
The President also requested that a separate subhead be created for the Subsidy Re-Investment Programme (SURE-P).
According to the letter dated 12 April, 2012, the president said the adjustments were necessary in view of the fact that allocations to NDDC and UBE under statutory transfers are usually calculated as a percentage of revenue accruing to the Federal Government, but that with the upward adjustment of the oil benchmark from 70 dollars initially proposed, to 72 dollars as passed by the National Assembly, shortfalls of N1.91 and N1.97 billion respectively has arisen in the budget of the two organisations.
According to the President, "the SURE-P was designed specifically to address the infrastructural challenges and social safety net," pointing out however that the "2012 Appropriation Bill did not separate the SURE-P from the budget," and asked that it be reflected separately "to make it easier for the Board to effectively perform their monitoring mandate."
On the Niger Delta amnesty programme, the President observed that the budget as passed appeared to have given priority to the cost of administering the implementation of the programme rather than the core aspects of it.
He therefore asked that the allocation of N48.3 billion to stipends and feeding allowance be reviewed downward by N27.5 billion to leave the new figure at N20.8 billion, while also requesting for an upward review of the N924.9 million allocated to the re-integration of ex-militants to N45.3 billion, leaving the difference at N44.4 billion.
Another area of the amnesty budget he asked for review was the operations cost of the programme for which N16.8 billion was allocated, but said the new figure should be N3.2 billion, leaving a difference of N13.6 billion, while further seeking the approval of N924.9 million for reinsertion and transition safety allowance.