EUCHARIA ANUNOBI CELEBRATES SON'S 10TH BIRTHDAY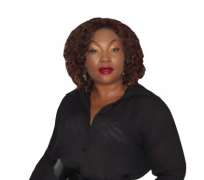 The only son of veteran actress cum Pastor Eucharia Anunobi which was produced from her former marriage with Mr. Charles Ekwu turned 10years on Saturday April 7,2012.
The actress turned Minister of God who was filled with joy staged a 10th birthday bash for her handsome and lovely son,Raymond Ekwu at Heritage Orphanage Home,Anthony Village,Lagos.
Pastor Anunobi who merged her son's 10th birthday party with the celebration of her official ordination as a pastor, equally seized the opportunity to donate both money and various gifts to the orphanage.
As gathered, contributing towards the welfare of the less privileged was her major reason of taking her ordination cum son's birthday parties to Heritage Home.
Over 200 guests who graced the party, stormed the orphanage with both financial and material gifts, as the light skin Pastor collected offering from them, which she handed over to the orphanage.
There were a lot to eat and drink, and present at the event were, actor Benedict Johnson,Ngozi Nwosus,Steph-Nora Okere,Reverend Anuli Aubeth Agagu, and many others.