Oshiomhole's Implicating Multi-Billion Naira Mansion Unearthed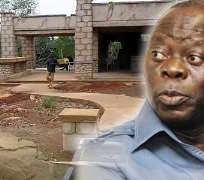 SAN FRANCISCO, April 15, (THEWILL) – In the coming days, Governor of Edo State, Comrade Adams Oshiomhole, renowned for professing his association with the lowly and his disdain for ostentatious living, will have quite some explaining to do.
His widely perceived incorruptibility as a former labour leader and current public office holder completely negate all possible explanations for the source of the fund with which he has been prosecuting the ongoing construction of a grandiose multi-billion naira country home, which was a secret project until Saturday when it was unearthed.
Buried in his hometown of Iyamoh, off Auchi-Okene Road in Jattu village, Etsako West Local Government Area, the sprawling estate houses multiple swimming pools, fountains, multiple theatres for cinemas and live entertainment, and a huge event hall.
Oshiomhole's kinsmen interviewed by THEWILL correspondent when we visited the village Sunday morning confirmed that the construction site is guarded by armed vigilantes and mobile policemen to prevent unauthorised persons from entering the property as earlier reported by ipaidabribenaija.com, which blew the whistle on the project on Saturday.
Oshiomhole was president of the Nigerian Labour Congress (NLC) until a few months before he contested and won (in court) the Edo State governorship election.
Defending the project, some of his friends and confidants told THEWILL that he made a lot of money from secret payments approved for him through proxies by some state governors and ministers during his labour years.
But curiously Oshiomhole has denied owning the property.
Sometime around 2003, Oshiomhole constructed his first multi-million naira mansion in Iyamor (as seen in the photos) with a lawn tennis court, a huge hall and a couple of chalets.
The Governor also has a mansion in prime Maitama-Abuja and Kaduna.
The contractor handling the project is a South African architect, Verissimo Taveres, the same builder that constructed the controversial multi-billion naira Abuja and Benin mansions of Chief Lucky Igbinedion, a former governor of Edo who was convicted for looting the state's treasury during his eight-year tenure.
Edo State has borrowed over N30 billion naira under Oshiomhole and just a few days ago took another credit of $75 million USD from the World Bank.
His critics say Oshiomhole has over the years successfully hidden from public his desire for luxury, opulence, women and the good things of life.
Some also say he has not completed any major project since he assumed office as governor almost four years ago though they gave him credit for road projects completed and ongoing.
As news of the stately mansion is certain to spread in the weeks ahead, Governor Oshiomole will be faced with the uphill task of convincing his hordes of followers that the project has been funded with money other than public cash.