EFCC Appeals Elumelu's Acquittal from N5.2b Fraud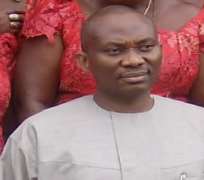 ABUJA, April 13, (THEWILL) - The Economic and Financial Crimes Commission (EFCC) has appealed against the court ruling that acquitted former chairman of Senate Committee on Power, Senator Nicholas Ugbane; House of Representatives members, Hon. Godwin Elumelu and Hon. Jibo Mohammed, and six others in a case of corruption and criminal breach of trust in the handling of a N5.2 billion rural electrification contract scam..
An Abuja Federal High Court had on March 24, 2012, absolved the former legislators of wrongdoing in the 15-count criminal charge preferred against them by EFCC.
According to the appeal documents, EFCC's lawyers are claiming that the trial judge, Justice M.G. Umar, erred in law when, in his consideration of the 8th respondent's motion on notice, he held that he was unable to find a prima facie case or complaint disclosed in the proof of evidence against the respondent.
"The consideration of the question of whether or not a prima facie case has been disclosed against an accused is limited to the proof of evidence filed in support of the charge," they said. "The proof of evidence does not have to disclose absolute proof or evidence required at the trial stage; it is sufficient if a prima facie case is disclosed connecting the accused to the offence."
The document also stated, "Using the above-stated parameters, the proof of evidence before the court below clearly reveals a prima facie case against the 8th respondent in relation to the offences for which he was charged. The learned trial judge adopted a wrong parameter in reaching his finding, hence the error."
Elumelu and eight other suspects were arraigned before Justice Abimbola Banjoko on a 65-count charge of defrauding the government in the Rural Electrification Agency (REA) project. They were standing trial for allegedly embezzling about N5.2 billion belonging to the agency, which had been domiciled with the Central Bank of Nigeria in the guise of paying over 65 fictitious companies to execute contracts in the Grid Extension and Solar Electricity project.
Ugbane, Elumelu and seven others were originally arraigned on October 30, 2009 on a 130-count charge. The three lawmakers among them were originally and jointly facing a 62-count charge while six others were jointly facing a 68-count charge.
The three lawmakers are: Hon. Godwin Ndidi Elumelu, Senator Nicholas Yahaya Ugbane and Hon. Jibo Mohammed.
The other accused persons are Engr. Samuel Ibi Gekpe, Dr. Abdullahi Aliyu, Simon Kirdi Nanle, Engr. Lawrence Kayode Orekoya, Abdulsamad Garba Jahun and Barrister Kayode Oyedeji.