AMBASSADOR DR MRS NIMOTA AKANBI SPEARHEADS ECONOMIC REVIVAL FOR NIGERIA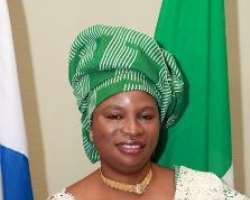 NIGERIA AMBASSADOR TO THE NETHERLANDS, DR MRS NIMOTA AKANBI
Nigeria despite the challenges confronting her is still the best place to do business and attract tourists in Africa says Nigeria's Ambassador to the Netherlands, Ambassador Mrs Nimota Akanbi. She recently after her reappointment as Nigeria's Ambassador to the Kingdom of the Netherlands disclose to The Nigerianvoice.com in this exclusive chat with Her Excellency.
From her maiden appointment as ambassador over four years ago, she has made it a national duty to attract business investors from the Netherlands to Nigeria. She has organized the biggest business forum where she single handedly ensure that several State Governors from Nigeria where physically present in the Netherlands to market their state to prospective investors. She has on numerous occasions led business delegations to the highest authority in Nigeria; first when the President, Dr Goodluck Ebele Jonathan was the Vice-President.
Mrs Akanbi believes that Nigeria has more to offer the whole world and in particular Africa; she admits that there are challenges but that does not stop the fact that genuine businesses are striving in Nigeria and many expatriates are daily visiting the Nigerian Embassy in Den Haag for visa to go to the country.
"My task as the Ambassador is to promote Nigeria and encourage investors/investments into Nigeria; I have done that with all capacity at my disposal and I am happy to report that there is no investor who has visited Nigeria that does not wish to come back there". We are a peaceful people, hardworking and very determined people who wants to succeed; we have a government in place doing all it can to fight corruption and establish transparency in government. President Goodluck Jonathan is committed to that, she declares.
Ambassador Akanbi recently led a Dutch business delegation including the Dutch Minister of Trade, Mr Simon Smits to Nigeria to meet with Nigeria Minister of Trade and Investment, Olusegun Aganga and visited some business institutions and state governments in Nigeria. The mission was a huge success and as a follow up, we are reliably informed that the Executive Governor of Kwara state, Alhaji Abdulfatah Ahmed on the visitation of Her Excellency would be on a working visit to the Netherlands, also to see areas of possible business investors' interest for his state, Kwara state of Nigeria.
The Nigerian Ambassador to the Netherlands, Dr. Mrs. Akanbi was at the airport in Lagos to receive the delegation who spend three days in Lagos where they met with potential business partners and visited a variety of companies such as Nigerian Breweries (Heineken), Friesland Campina and Chi Limited. The stay in Lagos was officially closed with a large network reception offered by Fidelity Bank.
The delegation visited the Dutch Ambassador to Nigeria, Mr. Arie van der Wiel who hosted them to a dinner at his residence in Abuja. The stay in Abuja focused on meetings with government officials, governors and visits to agricultural projects in the region. Of particular interest were the meetings with the Minister of Agriculture and an elaborate presentation of Pricewaterhouse Coopers on the government private sector development program for the agricultural sector. They also visited the ancient city of Kano; the second largest city in Nigeria after Lagos. The delegation met with potential business partners and visited the agricultural market (the largest in West-Africa) and Dala Foods.
Participants of the trip to Nigeria include the following, Spar International, Afrimission, Duyvis Wiener, Eco Fish, Gea Grasso International, Interfood, PTC +, Mush Comb, Intercommerce, ISPS, Prime Food Products, Fast Forward Freight, EUCORD - NIGERIAN MARKETS and AM International Search
The Netherlands Africa Business Council (NABC) facilitated the visit and they express their kind appreciation to Fidelity Bank Nigeria, the Dutch Embassy in Abuja, the Dutch Trade Office in Lagos and Thessa Brongers (BBAGOO Strategic Consulting) for organizing the trade mission.