T.B. Joshua and President Mutharika: Another View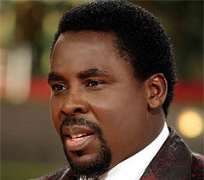 There is a common saying among our people that one man's meat is another man's poison, which is to say, the quest for, and enjoyment of personal choice, resides in the interest of the person concerned. Beauty is also in the eyes of the beholder - as another saying goes.
These statements clearly demonstrate that those who choose to identify with God's prophecies through men of God are not gullible or unknowledgeable; it is as a result of the fact that they know that the 'truths' of life exist beyond the ordinary; there are forces which operate in human circles which man cannot easily understand. Life is complex; the depths of it are unknown, cloudy and tough to be understood. It is not about a man's position in life, either in politics, administration or 'position of authority'. And we feel that the powerful and the less powerful people who move around Prophet T.B. Joshua, are not unaware of the implication of their love and interactions with him. Spirituality, for God's sake, is a personal matter.
This is one aspect of the essential response to Abimbola Adelakun's piece, "T.B. Joshua and President Mutharika" in The Punch, April 12th, 2012. It was good for her to have acknowledged her own personal attitude to prophets and prophecies, saying she has "a certain aversion to prophets and prophecies". And to her, "Prophets must be sadists of sorts" and that prophets have this notion of self-pronounced "Jonah-ism ego-tripping in them", features which she allegedly saw in T.B. Joshua.
Such a mindset, already made up on an individual and what God has sent him to do in our midst, cannot but be dangerously jaundiced or crudely biased. People who pursue men of God and insist on knowing the 'hidden truths' of life will not agree with the columnist in her description of the Joshua phenomenon. And it was borne out of this equivocal treatment of all that is Nigerian, even by Nigerians; people who do not admire anything as good in this clime so long it was not fabricated in the western world. What is ours is never ever respected and adored, even when appreciative foreigners in their thousands travel thousands of kilometres to feel the poignant significance as attached to aspects of our life. This is the attitude which has kept strengthening the phenomenon of brain drain here; it has affected our educational, touristic and scientific life, to such an extent that nobody wishes to stay at home, any longer.
For those who believe in prophecies and prophets (and this is a matter of personal choice!) what Joshua had done, is still doing, will mean the essence of life; it is anchored on the need to experience the opinion of God on all crucial issues such that affect individuals. Over the years, T.B. Joshua's prophecies have proved to be realistic, authentic and believably true. Not one of them has been proved wrong, jaundiced, misrepresentational and fabricated.
The specifics of the life and times of the late Malawian president, Bingu Wa Mutharika, are well known over the world, including his battle with some ailments shortly before his demise. It would have been undignifying for a man at the age of 78 years, and a president, not to know the essence of prophets and prophecies, and the areas in which existence was affected by both. If his death occurred, "exactly 60 days from the first prediction" made by Joshua, this should be strong enough reason for anybody, including the cynics, to believe in what was being prophesied. And that was not the only example in recent times. The experience of Colonel Gadaffi in Lybia, Professor Gbagbo in Ivory Coast and Morgan Tsvangarai – some of those who went out to search for this most gifted man of God, in moments of personal tribulations clearly showed that Joshua is not a fluke, though one is not suggesting that there are no jokes in the prophetic ministry in the recent world.
What Adelakun called "Joshua's gloat" is what most Malawians are already eulogizing to high heavens, because the man of God had been saying the prophecy for a period of three months, and some dictatorial presidents on the African continent had even responded that they were not the ones he was referring to! How was Adelakun expecting Joshua to have revealed the substance of the presidential letter, like a kindergarten pupil learning the ABC of language? If "Joshua displayed the purported presidential signature in a live Sunday Service", it was to establish that air of authenticity and plausibility which is always needed in a situation such as that. How else could he have shown the world that the letter was not fabricated? And what was wrong in a president's relationship with a prophet whose prophecies he or she believes in? If the late president believed in Joshua's ministry, what is the big deal in the present president, Joyce Banda, believing the same? Our leaders, in Africa in particular, have often faltered because they lack spiritual guidance; most of them do not even believe that God exists and there is always a day of reckoning, which is why there is much mismanagement, corruption, ineptitude, dictatorship, egotism, mischief, hollow politicking display and of arrant inhumanity in many places. Writers and journalists in Africa have kept writing tomes of papers on these phenomena. African leaders lose direction and focus, and even themselves, because they are so distant from the wishes of the Creator; they are the victims of the "ego-tripping" of which Adelakun wrote, and not Joshua, definitely. This is not about whether the columnist believes in Christianity and prophecies or not. These are facts that we live with every other day.
We ask again, please, what is wrong with Joyce Banda being one of Joshua's "staunch devotees"? Every leader believes in someone or something; some are occultists and ritualists who feed from human skulls, and are the harbingers of the troubles we now experience in Africa.
We do not know how Mr "Mutharika's death (could) have been hastened to prove this prophecy at all cost" except if Adelakun wanted to establish, as claimed in her essay, that Joshua's activities amounted to "triumphalism and sadism; an undignified use of a man's death as a trophy and with such shocking tactlessness".
A prophet of God, certainly, cannot begin to dance in his church with the coffin of a late leader just to win an applause on the accuracy of his prophecy. Our greatest misfortune as a people is this spirit of unbelief – we do not even believe in ourselves as capable of working out a progressive agenda for the edification of our clime. Certainly, it could not be true that the suspicious relationship between the former President and his Vice, in Malawi must have informed the experience and tenor of Joshua's prophecy on the former's death, since both of them had close relationship with the man of God. Political antagonisms have nothing to do with the reality of spiritual prophecies. Was Joshua working in partnership with the 'antagonists' and 'haters' of Gaddafi and former Ivory Cost president Gbagbo and former President of Zambia, Chiluba when he prophesied concerning them? These leaders, who were not neophytes, consulted him to hear the Word of God, in truth, regardless of even their religious beliefs. Joshua's prophetic voice has been praised all over the world, except by some Nigerians who must seek 'sadistic' and 'undignified' meaning in purely spiritual matters.
We do not have faith in what we have; our potentials are mismanaged and treated with disdain. True, there is nothing new in "a 78 year old man dying", but people far younger and older than himself have died, and it is not an issue for prophecy. But God has a way of working on behalf of those with absolute trust in Him, in moments of tribulations. And who says Joshua, as a prophet of God, is God himself? Who says he has not been praying for people, including "children who died celebrating on Easter Sunday in Benue"?
Joshua predicted the Boko Haram phenomenon and many other tragic experiences, which people neglected, yet he is never discovered. He has, through The Synagogue, Church of All Nations (SCOAN), kept supporting thousands of orphans, widows, widowers, physically challenged and dwarfs; thousands are in school and jobs today, through the manifestation of Joshua's limitless kindness and generosity, even when he seeks not to be praised for same. Emmanuel TV Partners are springing up in different parts of the world, attending to thousands of the poor, helpless, disenchanted and the imprisoned, and people who had lived as whores and drug-addicts. Such groups exist in the USA, Asia, parts of Africa and Europe.
If a single prophet could be doing these, we should be humble enough to publicly acknowledge his sincerity of purpose and God's character. Spiritual hollowness and odious suspicion of Godly evangelists who inspire people to use their faith to get connected to God are some of the self-imposed tribulations which hinder us from getting to our promised land as a people, especially in Africa. In fact, it is an act of gullibility to look unto spiritual matters with disdain; to want to rubbish spiritual issues with the pestilential paint of meaninglessness. The Boko Haram experience in Nigeria, not to speak of other places, should tell us that religious affair cannot ever be pushed under the carpet of inconsequence. We have to be serious with ourselves and recognize those who kept working for the upliftment of humanity, be it in Russia, USA, Europe, Africa, Asia and other places. This is the truth of the matter.
Ezekiel Fajenyo
Sunday Patrick
Public Policy Analysts
Disclaimer:

"The views/contents expressed in this article are the sole responsibility of

Ezekiel Fajenyo

and do not necessarily reflect those of The Nigerian Voice. The Nigerian Voice will not be responsible or liable for any inaccurate or incorrect statements contained in this article."