GOSPEL SINGER WUNMI AWONIYI'S MOVES OUT OF HUSBAND'S HOUSE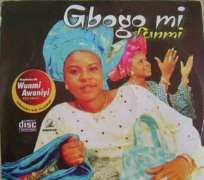 The marriage of respected Yoruba music gospel singer,Evangelist Prophet Wunmi Awoniyi to her husband,Evangelist Kunle Samuel Awoniyi has crashed.
According to findings, the marriage which lasted for few years between duo who are musicians, collapsed like a pack of cards several months ago.
Evangelist Wunmi Awoniyi,also moved out of the matrimonial home several months ago with her little son.
Not many people know she was the 3rd wife of her husband and obviously the most popular amongst them.
After the release of her hit album"Gbogo Mi Funmi" marketed by Mostoy,a Lagos-based music marketing outfit,several issues occurred which according to sources were instrumental to the breakup of their marriage.
The talented light complexioned singer soon became the most important figure in the church.
Her performances during Sunday services was obviously the high point during Sunday services at the church Evangelist Kunle presided over.
As time went on,the battle of superintending over the church arose.Evangelist Wunmi according to the family wanted a more prominent role which the 2 other wives of her husband kicked against.
Several other issues which could not be reconciled triggered the crash in the marriage.
Evangelist Wunmi packed out of the matrimonial home,located at Iyana Ipaja,a Lagos suburb with her only son to relocate to another apartment at an undisclosed place in Lagos.
The estranged couple have also taken their rift a step further.They have separately produced songs to attack themselves by infusing insulting words targeted at each other.
The light complexioned talented singer whose distinct songs has the tone of white garment churches got into music professionally about 6 yrs ago.
To her credit she has produced 4 albums which are "Ologo Nla",Gbogo Mi Funmi,Ogo Mi De,Ogo Wole Mi.