KING PROF TJT PRINCEWIL, AMAECHREE XI CELEBRATES TEN YEARS OF DIVINE REIGN - HONOURS 68 ILLUSTRIOUS SONS AND DAUGHTERS OF THE KINGDOM.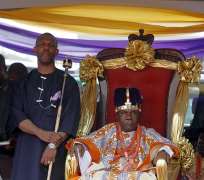 By Eze Chukwuemeka Eze, [email protected], 08038199163
The year 2002 marks a milestone in the history of the Kalabari Kingdom the largest ethnic group in the Ijaw speaking Nation with 33 communities covering three Local Government Areas of Rivers State (Degema, Asari-Toru and Akoku Toru) when for the first time in its history decided to convey and coronate a Professor of repute as its King, His Majesty King Professor Theophilus Jacob Tom Princewill. King Prof Princewill is the eleventh Amakaree from the Amachree lineage which started with "Amakiri I" (Amachree I) in 1770, although the kingship itself dates back at least to the 1600s. The Kingdom has not been the same, since Professor Theophilus JacobTom Princewill's coronation on March 23, 2002.
So on 23rd March, 2012 at Buguma City the headquarters of the Kalabari Kingdom according to Chief Norman Wokoma a member of the Kalabari Council of Chief who witnessed the coronation of King Princewill as the Amanayabo ten years ago stated and I quote, "Chief Eze, I must state that I am shocked that the same weather that played out on the very day of the coronation of King Princewill as the Amayanabo playeed out on the day of his ten years anniversary on the throne. The rain that started while the coronation was going on came in at the same time it rained about ten years signifying that the Amachree xi truly came from God".
This assertion was echoed by Reverend Suku Ngiangia who ministered during the thanks-giving ceremony of the 10th Anniversary event of King Princewill on the throne of his forebears at the historical First Baptist Church Buguma founded in 1893 when he stated, "King Princewill is a King ordained and given to us in the Kalabari Kingdom by God to bless and multiply the Kingdom. Today, Kalabari Kingdom is known all over the world just because of the peaceful and visionary reign of King Princewill".
Rt. Rev. Dokiboeriya B. Kaladokubo the first indigenous Bishop of the African Church after 100 years of its existence who has stayed in the Kalabari Kingdom for over thirty years and witnessed the great event that ushered this man of peace as the King of his people. According to him, the Amanayanbo is my father and as a true son of the Kalabari Kingdom, I can comfortably state that the King is God sent and his reign has brought good fortunes to us in the Kingdom.
HRH King Susan T.Y. Baridam JP, Gbenemeng, Bangha ii, Kasimene Bangha vii, member, Rivers State Council of Tradional Rulers in his congratulatory message stated, "it has been ten years of purposeful leadership driven by uncommon humility and wisdom in the service of your people and the entire State. Indeed, the occasion under reference is a clear divine affirmation that no man-made obstacle can challenge what God has decreed and I and my immediate family arey very proud of your achievements thus far.
To HRH King (Sir), King Kroma A. Eleki JP, Sara xiv, Amanayanabo of Kula the Defender of the Kalabari Rear, "the events leading to and after your coronation were very tasking. However, you surmounted all the hurdles placed on your way by exhibiting extra ordinary wisdom and clear understanding of the socio-cultural complexities of our people whilst disarming all with your humility and great sense of forgiveness"
In his congratulatory message, HRM Dr. U.D. Ngere the Okah-Amango of Andoni, "in ten years, you have weathered all storms on the way to becoming one of the most celebrated monarchs of our time. While your colleagues in Council are applauding your visionary and inspiring leadership, your subjects at home in Kalabari Kingdom are rejoicing over the peace and hope which your reign has witnessed so far".
Prince Tonye Princewill the crowned Prince of the Kalabari Kingdom and the scion of King Prof T.J.T. Princewill on his thinking of the ten year anniversary of his father on the throne simply stated, "I just don't know what to say as I am overwhelmed by the fact that I am the only son of this great man that have redesigned and rewritten the history of the Kalabari Kingdom by his great feats, purposeful and innovative leadership, what else can I say but thanks to the Almighty God who made all these to be possible.
Dame Florence T.J.T. Princewill the wife and Queen of King Prof Princewill, I am happy and grateful to God Almighty for bringing me across the path of this great and legendary leader of our people whose uncommon wisdom is a challenge to us and whose fatherly care is a study of what a true husband and father should be. Being the wife of the first Monarch from Kalabari Kingdom to be installed as the Chairman, Rivers State Council of Traditional Rulers is an honour that I will live to cherish all the days of my life.
While declaring the 10th year anniversary event open at the King Amachree square where the best cream of who is who in Kalabari Kingdom were seated for the celebration of the man of peace; the chairman of the occasion, Chief Chamberlain Oruwari Oyibo, Oyibo v of Ido, Kalabari Kingdom stated, "a lot has happened in the past ten (10) years in Nigeria, in Rivers State and in the Kalabari Kingdom. Within this period many towns and villages in Kalabari experienced turbulence. Buguma the headquarters of the Kingdom was sacked by a band of cultists/militants. So were some other towns especially Bakana and Tombia. There was hardly any Kalabari community that did not experience the effects of this 'war'. But luckily God heard our cries and peace was restored to all the towns, villages and communities.
Inter communal harmony has greatly improved, so also has the relationship with all our neighbours become very cordial and friendly. As such we have every reason to celebrate these past ten years and to rejoice with our monarch. What does the future hold for the Kalabari people in the next ten years? How do we maintain our place and improve on our lot among the other ethnic nationalities in Rivers State and in Nigeria as a whole? What do we have to do to keep peace with developments going on all around us?"
The Chairman enumerated four areas in achieving this – unity among the sons and daughters of the Kingdom; Improving on the education of our younger ones; improving on the infrastructure in the Kalabari particularly making the Govt to complete the Trans- Kalabari Highway which is meant to connect many Kalabari towns and villages thereby making interactions and communication easier ad providing electricity and lastly we must create employments for our teeming unemployed youths through investing and improving on the agricultural potentials of the kingdom.
While thanking all and sundry for honouring him with this great event, King Princewill who was the cynosure of all eyes and centre of attention by all the dignitaries in attendance beaming with joy of an accomplished father addressed his people thus, "I am extremely persuaded by the genuine and divine love of the Almighty Creator for these ten years to thank you my dear people of Kalabari Kingdom for your wonderful; support which has brought us this far. I am indeed grateful and delighted that I have such a resourceful, loving, caring, intelligent and understanding souls as my Chiefs, men, women and youths of the Kalavari Kingdom"
The King went further to enumerate his feats while on the stool of his ancestors, "sitting on a positive – minded stool of King Amachree 1 – the indefatigable Empire Builder of the Kalabari Kingdom. I would want to remind us of some positive things which have been attracted to the Kingdom to the glory of God. I recall with proud that in the history of Rivers State Council of Traditional Rulers no King of Kalabari extraction has become its Chairman until 1st January, 2010 when I was appointed as the FIRST King of Kalabari extraction to become Chairman, Rivers State Council of Traditional Rulers. With all sense of humility and also to the glory of God, King Prof T. J. T. Princewill JP, CFR, Amachree xi is the FIRST PROFESSOR KING to become the Chairman of the Rivers State Council of Traditional Rulers. In the Name of God the Father, God – the Son and God- the Holy Spirit, I hereby thank immensely the amiable Governor of Rivers State – His Excellency, Rt. Hon. Chibuike Rotimi Amaechi, CON for making it possible for the King Amachree Stool to serve as Chairman, RSCTR".
King Prof T.J.T Princewill further stated that "It may equally interest you to know that no stool of Rivers State has ever received the prestigious award of the Commander of the Federal Republic Award in the history of Federal Government Awards. The King Amachree Stool is the FIRST to receive such Award through His Majesty King Prof T.J.T.Princewill JP, Amachree xi. I therefore use this medium once more to thank His Excellency, President Goodluck Ebele Jonathan GCFR for honouring the King Amachree Stool with such an award!
The king proffered forging of concrete and purposeful unity among his people as one main reason why he accepted to be the monarch while his major problem since he began his reign is the incompletion of the Trans Kalabari Highway taken over by the Federal Government pleading with both State and Federal Government to get this road completed as it is very dear to the survival of the Kalbari Kingdom.
In assisting to creating and writing of the Kalabari Kingdom, he instituted King Kariboye Abbi Amachree iv Memorial Lecture 4 years ago which was never done by any Kalabari King before which was aimed at compiling the series of lectures into a compendium for the world to read the history of the Kalabari people in all facets of life.
The epochal event was used to honour about 68 sons and daughters of the Kalabari Kingdom that have distinguished themselves from all aspect of human endeavours – serving and retired military generals, Seasoned Administrators, Academia, Judiciary, Industry/Business, Clergy, Traditional Administrators and State and National Assembly members.
Among those honoured were Rear Adm. Anthonio T. Bobomanuel (Rtd), Maj. Gen. Daye E. P. Atiegoba, Hon Ojujaye Flag Amaechree, Chief Hon. Aroloyeteinm Brown, Hon. Dr. Mrs. Doris Fisher, Sir Ngo Martins-Yellowe, Hon. Dr. Tammy W. Danagogo, Hon. Mrs Joeba M.M.West, Pst ChristopherBriggs mni, Dame Queen Florence T.J.T.Princewill, Chief Prof Nimi Dimkpa Briggs, Chief Prof. G. O. M. Tasie, Mrs Daba Odimabo, Chief Hon. Justice Adolphus Karibe-Whyte CFR, Hon. Justice Soton Denton-West, Alabo Sir Justice Biobele A. Georegewill, High Chief O.B. Lulu- Briggs, DCF,OON, Chief Hon. T. O. Graham-Douglas, Late Rev. C. T. T. George (post humous), Most Rev. Dr. Charles Dick Iboroma JP (Rtd), HRH King Kroma Amabib Eleki-Sara xiv Amanayanabo Kula. HRH Chief A.B. Big Tom-Tom Amayanabo of Abalama, HRH Chief Ibroma R. Pokubo Amayanabo of Minama, Chief D. E. S. Amachree, Chief C. J. T. Princewill Amanyanabo of Elem – Kalabari, HRH Chief Kingdom Dateme, Okio ii Amanyanabo of Idama, Chief Jenkinson Iboroma, Sen. Dr. Ibiapuye Martyns-Yellowe (post humous), Hon. Dr. Dawari Geaorge, hon. Dr. Sokonte Davies, Rt. Hon. Otelemaba Dan Amachree, Rt. Hon. Tonye E.W.Harry, Hon Ibinabo Micheal West among others.
Academically, Princewill's climb to the peak commenced in 1935, at Buguma's famous Baptist School. He was just five—the youngest ever to enrol.
Wielding a Ph. D. in Microbiology, from Leeds University, England (1975), Princewill won acclaim in his field, publishing over 30 articles in scientific Journals, between 1965 and 1988!
A socially committed King, the Amanyanabo is striving to alleviate poverty and restiveness through his Amachree XI Scholarship Scheme, now in its third edition.
During a ceremony at Buguma last June, The King handed over N5, 100,000to the project Coordinator, as financial support for 94 students from Rivers State's 23 L.G.A.s.
The Amachree XI Scheme uniquely applies to all L.G.A.s, irrespective of ethnicity and targets the highly strategic disciplines of Law, Engineering, Agriculture, Medicine, Environmental Science and Computer Science.
Amachree XI, despite his age, eagerly answers the call of duty. He is Chairman of the Rivers State Council of Traditional Rulers and has sat on the state's Advisory Council (1999-2007) as well as its seminal Peace and Reconciliation Committee (2006 to 2007).
This civic mindedness has earned him many accolades and awards, including the Grass Roots Royal Father Of The Year--presented during an epochal ceremony at Buguma City in 2007 by Silver Doors Concept Initiatives.
A leader of Kings, the Amanyanabo is a fierce defender of Kalabari traditions and an ardent exponent of a constitutionally defined role for traditional rulers.
No wonder President Goodluck Jonathan conferred on him, the title of the Commander of the Federal Republic (CFR)—a title meant only for Nigeria's best.
King Princewill has, therefore, reached the pinnacle in both his personal and professional life: Superbly confirming his postulated status as a great leader par excellence.
It becomes obvious that Franklin .D. Roosevelt, a former president of the United States of America, an orator and philosopher of great acclaim, had the likes of King T.J.T. Princewill in mind when he wrote: "The test of our progress is not whether we add more to the abundance of those who have much; it is whether we provide enough for those who have little." Holding tenaciously to this eternal verity, King Princewill, believes that a leader should be a public servant, who strives relentlessly to put smiles on the faces of his followers without placing undue emphasis on their social status or dashing the hopes of the poor masses".
Eze Chukwuemeka Eze is a Media Consultant and Political Strategist based in Port Harcourt