Costco Misses, Limited Tops March Sales Estimates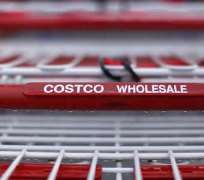 Victoria's Secret parent Limited Brands Inc (LTD.N) beat sales estimates for March, while Costco Wholesale Corp (COST.O) missed in a month expected to benefit from summery weather and an early Easter.
Clothing retailers like Zumiez Inc (ZUMZ.O) and American Apparel (APP.A) also reported higher sales at stores open at least a year as they lured shoppers with blue, yellow and pink clothes and other seasonal merchandise.
Comparable sales at Limited Brands, a perennial winner, rose 8 percent, trouncing the analysts' average estimate of 4.4 percent growth, according to Thomson Reuters data.
Three of the retailers that had posted sales by early Thursday morning beat expectations, while four missed, the data showed.
Last month was the warmest March in more than 50 years, according to weather tracker Planalaytics. As in February, the weather helped clothing retailers bounce back from December and January, when they had to take sharp discounts after stocking up on merchandise for a winter that never came.
However, Costco reported a 6 percent rise in March same-store sales that missed market expectations. The retailer, the biggest to post monthly results, suffered from weak foreign currencies compared with the U.S. dollar.
NBG Productions analyst Brian Sozzi said the warehouse club chain did not seem to draw as many shoppers as he would have expected, given its low prices.
"Costco has an outsized exposure to California, the state with the fourth-highest gasoline prices in the U.S.," he wrote in a note to clients.
"Somewhere there is a tie-in between stretched household budgets as a result of gas price creep and Costco's bulk offerings, which do require a hefty upfront investment."
Costco and other warehouse club chains require customers to pay membership fees to shop in their stores.
REUTERS