ACCOLADES FOR THE DIPLOMAT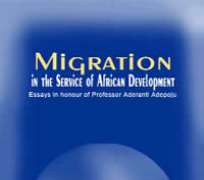 When the authors of Migration in the Service of African Development came up with the idea to write the book, the motive was very clear: to chronicle the immense contributions of Professor Aderanti Adepoju and also produce an invaluable reference material for future scholars in the field of migration studies.
The 14-chapter book, edited by John Oucho, which portrays the protagonist as a scholar who changed vocation from a university don to an international diplomat and an adviser of governments, was published in 2011 and was formally launched on February 9, 2012, alongside another publication, Seeking Greener Pastures Abroad: A Migration Profile of Nigeria.
The book dwells on Adepoju's distinguished and pioneering career in the international development field, and an expert who in last past 36 years, assisted several African countries in capacity-building and in the formulation and implementation of labour, population and development programmes.
'His knowledge and expertise as economist, demographer and development specialist have been used by many international development organisations - he has served as a consultant or team leader across a wide variety of missions and research activities,' writes the editor, who also notes that the book is a dedication by a number of colleagues to Professor Aderanti Adepoju who has been in a variety of vocations without losing attachment with migration scholarship.
'The idea of producing it evolved from a plea made at the inaugural conference of the Network of Migration Research on Africa (NOMRA) in January 2009 for a book to be compiled in honour of Adepoju as a way of immortalizing him while still alive and encouraging younger scholars to emulate his immense contribution to migration scholarship. The contributing authors are drawn from Latin America, Canada, USA, Europe and Africa, and from diverse disciplinary backgrounds - economics, geography, demography, sociology and law - but share one thing in common: migration work. Therefore, the 14 chapters of the book cover internal and international migration in Africa from a rich variety of perspectives.
Divided in two components, the book chronicles Adepoju's foray into migration study in the early 1970s as a rare feat at a time when it commanded little respect - and funding - among demographers of the day.   The first chapter is written by the editor of the book, John Oucho. In a moving account of Adepoju's work, this author gives a convincing argument on how Adepoju transformed migration from the periphery to the core of development agenda in Africa.
He further explains how Adepoju's steadfast focus on and commitment to migration work saw his influence shift migration training, research and dialogue from the narrow perspective of population dynamics to become its rightful place as the core of development agenda - globally, and particularly in Africa.  The rest of the book demonstrates what a dedicated scholar can do in sustained scholarship, charting a course for the cooperation of the academic community, planners, policymakers and development partners. The authors conclude that as a migration doyen, Adepoju's work and his rare dedication has successfully raised a prominent African voice in debates that are dominated mostly by European agendas and that Africa should treasure, conserve and build upon his enviable legacy.