Cross River Communities Cry Out Over Dumping Of Refugees In Their Localities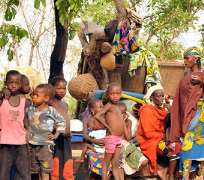 CALABAR, March 27, (THEWILL) - Three communities in Obanliku Local Government Area of Cross River State have cried out over the dumping of Fulani refugees in their localities allegedly by the Benue State government.
The refugees, who are Fulani herdsmen, are said to be indigenes of Taraba State.
Speaking to newsmen on the development, the clan heads of Utanga, Bagga and Besenge Communities frowned at the idea where about 4000 Fulani refugees escorted by armed soldiers, were brought and dumped in their localities without first informing them and seeking their consent.
They, therefore, want the refugees taken to Taraba if the Benue State government feels it can no longer accommodate them in Katsina Ala, where they were originally domiciled.
According to them, the refugees, who were brought into the area at midnight, came with about 25 herds of cattle, which have started grazing on their farm lands, adding that their presence is a big menace to the communities who also see the guests as a security threat.
They therefore called on the Cross River State government to come to their aid as available infrastructures are being threatened by the refugees.
The chairman of Obanlikwu Local Government area, Mr. Benjamin Ajua Ambe, who was visibly disturbed by the presence of the refugees, described them as a security threat.
He disclosed that the first batch of refugees where transported in about 15 trailers from Benue state, while the second, which involved about 30 trucks was escorted by Mobil policemen from Katsina Ala, Benue State.
Ambe was also worried at the possible outbreak of epidemic since he was not certain the refugees had been immunized, adding that their presence was also a threat to the primary schools in the communities because schools are in session.
He called on all security agencies to come to their assistance.
The Council boss commended the State Emergency Management Agency (SEMA) for acting promptly by visiting the communities and supplying the refugees with mattresses, mats and food stuff and expressed the hope that the refugees would be promptly by evacuated from the state.
A spokesman of the displaced persons, Alhaji Wakili Shede Abdullahi, who spoke through an interpreter, Alhaji Yusuf Usman, Chief Imam of Obudu Central Mosque, disclosed that they fled their home land in Takum, Taraba State because of inter tribal war between Fulani and Tiv and that they initially moved to Katsina Ala, Benue State from where they were forcefully moved to Obanliku amidst threats to their lives.