'Scoffing food contributes to obesity'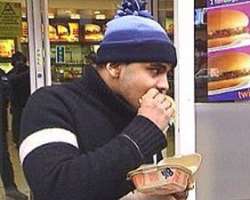 Scoffing food contributes to obesity
People who scoff food quickly until full are three times more likely to be obese, researches have found.
Wolfing down large portions of cheap food and habits like watching television while eating were also contributing factors to being overweight, researchers at Osaka University in Japan found.
The study, published in the British Medical Journal, highlights how eating styles, and not just what or how much is eaten, can contribute to an obesity epidemic.
More than 3,000 Japanese volunteers aged 30 to 69 were quizzed about their eating habits. About half of the men and a little more than half of the women said they ate until full while 45 per cent of the men and 36 per cent of the women said they ate quickly.
Those who said they ate until full and ate quickly were three times more likely to be obese than people in the "not eating until full and not eating quickly" group, the researchers found.
To counteract the "supra-additive effect" of speedy or glut eating among children prone to obesity, parents should encourage them to eat slowly and in calm surroundings, the study found.
The World Health Organisation classifies around 400 million people as obese, 20 million of them under the age of five. The condition raises the risk of diseases like type 2 diabetes and heart problems.