Supreme Court Upholds Death Sentence Passed On PHCN Guard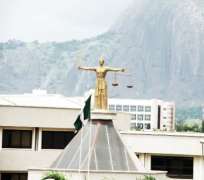 ABUJA, March 25, (THEWILL) - The Supreme Court has upheld the conviction of Stephen Haruna, a security guard with the Power Holding Corporation of Nigeria (PHCN) nine years after he killed the person he was paid to protect, Miss. Sussana Igwe, an assistant general manager (legal) with the company.
In the course of investigation, Haruna admitted killing her boss and was consequently charged with murder before an Abuja High Court. Pronounced guilty and sentenced to death, he challenged the court's judgment on appeal. The Court of Appeal affirmed the decision of the High Court, and a dissatisfied Haruna for the Supreme Court, where he has again lost.
Justice Suleiman Galadima, who wrote the lead judgment with which four other justices concurred, said that there was overwhelming evidence to uphold the conviction of Haruna.
"In the face of the overwhelming evidence against the Appellant, I cannot upturn the concurrent findings of the trial court and the court below (the Court of Appeal) when the Appellant has failed to demonstrate that the said concurrent findings were perverse and could not be supported having regard to the evidence adduced by the Prosecutor," he said.
Justice Galadima also stated that Haruna's girlfriend, one Mary Jimoh, equally testified that the money he (Haruna) stole from Igwe was deposited with her.
Although, the convict made three confessional statements to the Police in the course of the investigation, he later retracted one of them.
Justice Galadima held that even if the third statement was discountenanced, Haruna could still be rightly convicted, as his confessional statement was corroborated by the discovery of the stolen money he took to his girlfriend at Kubwa, a suburb of Abuja, to keep for him.
"It was on the strength of the confessional statement that the Police went to Kubwa where the money was discovered. Also, the testimonies of the driver, PHCN senior security officers and the forensic reports corroborated the Appellant's confessional statement."