APOSTLE PRINCE DAVID ZILLY-AGGREY: THE PRINCE OF PREACHERS @ 50 - THE JUBILEE ANNIVERSARY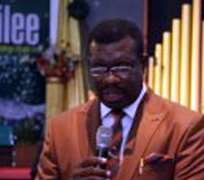 The Prince of Preachers, Apostle Prince David Zilly-Aggry is fifty. It is the jubilee of the Prince of preachers' .The word Jubilee comes from the Hebrew yobel, which means to be "Jubilant" and to "exult". The word is related to the Hebrew word for ram's horn or trumpet .The jubilee year was launched with a blast from a ram's horn on the Day of Atonement, signifying a call to joy, liberation, and the beginning of a year for "doing Justice" and "loving mercy". The 50th year was a special year in which to "proclaim liberty throughout all the Land" (Lev 25:10). Specifically, Individuals who had incurred debts and had sold themselves as slaves or servants to others were released from their debts and were set at liberty. In the year of Jubilee land was returned to the families to whom it was originally given. The 50th year became important in Israel economic life. Part of the reason why God established the jubilee year was to prevent the Israelites from oppressing one another (Lev 25:17). One effect of the jubilee year was to prevent a permanent system of classes .The jubilee year had a leveling effect on Israel's culture. It gave everyone a chance to start over, economically and socially. The jubilee year reminds one of God's interest in liberty; God wants people to be free(Luke 4:18-19) It also stands as a wittiness to God's desire for justice on earth and calls into question any social practices that lead to permanent bondage and loss of economic opportunity. The jubilee is characterized by instruction in the law (Deut 31:9-13). In this way the people learned that God's demand to love and obey Him was directly related to his concern for the welfare of all the people of Israel.
Birth of the Prince of Preachers: Like Israel's jubilee of 50th years, so come the birth of the Prince of Preachers, Apostle Prince David Zilly-Aggrey. Born 21st day of March 1962 in site 20 in Tema, Accra, Ghana the then Gold Coast into the family of late Mr. & Mrs. Aggrey Okpowai of Igbainwari town of Opokuma in Kolokuma/Opokuma Local Government Area of Bayelsa State, Nigeria. Apart from Bayelsa being his ancestral root his grandmother is from Owhe in Isoko North Local Government Area of Delta State and married as wife, Pastor (Mrs) Gladys Zilly-Aggrey from Pkrika in Okrika Local Government Area of Rivers State. The Prince of Preachers genealogy has his foundation not only well founded in Jesus Christ but rooted also these core tripod States of Niger Delta Region of Bayelsa, Delta and Rivers States. Thus a s of royalty, peace and rare mental endowment began its shine in Igbainwari town. Apostle Zilly Aggrey is not Jesus Christ, he like every other Christian, can only aspire to be like Christ. He is human like everyone, but unlike just everyone, there are virtues of him that are uncommon. This child of exceptional gift has today grown into an adult of wondrous capacity from his primary school days through secondary and professional training days; Apostle Zilly-Aggrey's life has marked out a clear contour of distinction, vision, hard work, courage and leadership. Apostle Zilly-Aggrey has continuously fulfilled the biblical declaration, "before I formed you I knew you, before you were born, I set you apart" (Jer. 1:5). Little was it known at the time of his birth that his footsteps has been divinely ordered to be a torchbearer for his people Bayelsa State, Niger Delta Region, Nigeria and humanity at large – on the path to the Promised Land.
Education and Training: Started his early school in Ghana, got back to Nigeria in 1970 after the civil war and enrolled into the Baptism Day Primary School, 93 Aggrey Roads, Port Harcourt where he became an exceptionally bright pupil. He attended Government Comprehensive Secondary School, Borokiri, Port Harcourt and finished his secondary education at Stella Maris College, Harbor Road, Port Harcourt. Apostle Zilly-Aggrey joined the Westminster Dredging Company Limited and was working until January 1987, when he got admission into All Nation's for Christ Bible Institute, Benin City and became the Senior Prefect of the School. After his graduation, he was officially commissioned into the ministry by late Archbishop Benson Idahosa and Bishop Dr David Oyedepo. Back to Port Harcourt, he became Assistant Pastor under Bishop W.T. Iwo in Church of God Mission International Inc. Egede, Mile One, Port Harcourt where he distinguished himself a pastor sort after by all. Dr. Eric Williams, Prime Minister of Trinidad and Tobago, delivery a message to the youths of Trinidad Tobago at independence Youth Rally on 30th August 1962, said, "on your scholastic development the salvation of other nation is dependent". Unarguably, Apostle Zilly-Aggrey is a man of great scholastic prowess. Education pursuit has seen him in several reputable schools and has taken several professional courses covering almost all fields of human endeavor, which have contributed to making him what he is today. As John Rustin said, "education is the leading of human soul to what is best and making, what is best of them." Apostle Zilly-Aggrey being a man who will not allow his poor background and financial constrain to deprive him of a sound academic education. He received other post graduate professional training at tertiary level. The rare, remarkable, enviable and rich ancestral connections notwithstanding his equally rich and thorough educational background are arguably his greatest asset.
Journey to the Ministry: By reason of fate and divine encounter in 1985 he trekked to Church of God Mission Egede from Marine Base axis of Port Harcourt for on-going spiritual awakening revival meetings that a Guest speaker featured .Driven by curiosity to know what this born again experience and the baptism of the Holy Spirit is all about, he had encounter with the Holy Spirit that night beyond the bottle of coke and snack that was given to him, he received spiritual rebirth that has birthed into him passion for souls and determination to take the life changing gospel of Jesus Christ to the world.
Royal House of grace International Church - History: June 1, 1991 was like any other day to many people, but to Prince-David Zilly Aggrey, it was a historic day in his relationship with God. The Apostle was at the Commonwealth Institute, London when God spoke to him at about 9pm to "'go back to your Jerusalem' (Nigeria) and 'gather the outcasts of Israel ... the disconnected, the distressed and those that are in debts ..." God added further, "... and I will equip you with the Davidic anointing to turn them into a mighty army." The full measure and definition of this great assignment can only be determined by God and he does not give this kind of assignment to weaklings. By this time of this commission, Prince David Zilly Aggrey has his apprenticeship as an Assistant Pastor under Bishop W. T. Iwo in Church of God Mission Int'l after a one-year record-breaking career in Christ for all Nations Bible Institute, Benin under the late Arch-Bishop Benson Idahosa in 1987. Prince David Zilly Aggrey started Royal House of Grace on 30th October, 1992 with 15 members in his living room at plot 4A Elitor Close, off Woji Road, Woji Town, Port Harcourt. The 15 Founders included Pastor (Mrs) Gladys Aggrey, Elder Mrs Abigail Osunhor, Ere Subi, Elder Mrs Elizabeth Nabena, Rev Thompson Wari, Helen Aggrey , Mrs Ebi Oladapo, Ayobidemi Ilori, Mrs Olga Ilari, Mrs Lucy Adukeh, Mrs Josephine Apre, Pastor Messiah Opusunju, Austin Ogionwo, Pastor Mercy Amanda now Rev. Dr. Mrs. Mercy Essien and Prince David Zilly Aggrey himself. It is not certain if these fifteen persons had a clear idea how far they wanted to go and how wise their decision was to found Royal House of Grace, but they sure had implicit confidence in the able leadership of the anointed servant of the Lord that had brought them together. They were also sure that God had ordained that meeting. Nineteen years later, there is every good reason to say their decision was right. No sooner had the Ministry started that it became a household name. By January, 1993 the Church moved into Hotel Olympia Banquet Hall where attendance rose to over 500 within the first six months.
By the last quarter of 1993, the Church moved to the former Centre for Women Affairs along the Eastern By-pass, Port Harcourt. The Church-growth experience of Royal House of Grace is phenomenal and, yet dramatic. The first anniversary of the Church in October, 1993 was celebrated in the in-door sports hall of the Alfred Diete-Spiff Civic Centre and that might have appeared ambitious to many observers for a one year old ministry to distribute handbills with helicopter. The hall was always full each day; and for those who know the calling of God on Prince David Zilly Aggrey, that was only a sign of greater things to come in the life of the ministry. It is also significant that the international thrust and vision of the ministry came into play in the first anniversary by the successful hosting of one of Africa's choice preachers, Ghana Eric Kwapong. After the third anniversary of the Church in October, 1995, the unusual growth of the ministry made relocation to a permanent site but more accommodating location imperative. The exodus to the present sixteen-plot headquarters site took place December 3, 1995. Jesus Eagle Square or Graceland Headquarters, as the headquarter Church is popularly called, has become a centre of apostolic activities in the Body of Christ. Inside the intimidating three wings Temple of Grace, several national and international Christian meetings have been taken place.
Apostle Prince David Zilly-Aggrey is the Founder and Senior Pastor of Royal House of Grace International Church, a ministry with Prophetic mandate to nations and generations. He is a widely traveled speaker and has ministered and touched lives in the United Kingdom, United States of America, Australia and parts of Africa. His ministry has birthed a number of political office holders and several parishes in Nigeria. Apostle Zilly Aggrey is an author and host of The Prophetic Watch, a widely viewed television programme, which has become a very popular reference in Christian Media Evangelism in Nigeria. He also host the popular Mid-Week with Jesus radio program "The Positive Force" on FRCN 98.5 Treasure FM, as well as other radio and television stations across the country. A Registered Speaker with an extra-ordinary kind of anointing, Apostle Prince-David Zilly Aggrey has been greatly used all over the world and has helped to raise and build churches and ministers. He has credibility and integrity and many governmental and political leaders look up to him for spiritual counsel. His multi-faceted ministries among others include and not limited to, Administration/Management Ministry, Building/Technical Ministry, Decoration/Beautification Ministry, Evangelism Ministry, Hospital/Prison Ministry, House Church Ministry, Music/Worship Ministry, Pastoral Care Ministry, Prayer/Intercessor Ministry, Royal Children's Ministry, Royal Communications, Royal Men's Ministry, Royal Women's Ministry, Royal Youth's Ministry, Safety/Security Ministry, Ushers/Greeting Ministry, Widows/Orphans Ministry. He also runs advanced Leadership development training at Transformational Bible Institute. He is the current Rivers State Chairman of the Pentecostal fellowship of Nigeria PFN, and also the Chairman of the Christian Association of Nigeria CAN, as well as the Chairman of ICIC. He is happily married to Pastor Mrs. Gladys Aggrey and blessed with six children namely: Michael, Isaac, Princess, Ruth, Biola, Prayer, and Glad-Marylyn.
The Vision: The Royal House of Grace International Church pursues 3-fold vision:
1. To establish a biblically functioning Christian Community that will ensure the emancipation of people from all forms of spiritual and mental bondage, by the gospel of Jesus Christ.
2. To provide evidence of the relevance of the Christian faith in the Christian Community by making functional social contributions; and,
3. To establish a Christian community that has qualitative socio-economic strength and empowering such a community through the gospel with all the leadership skills needed to impact the nations in such areas as political awareness, educational advancement, economic emancipation and social mobilization. This is because we believe that the principles of Jesus Christ are the only basis for building a sustainable society.
Honours and laurels: The Prince of Preachers that he is, philosophically says: "there is no power as the love of God; no gift as the blessing of God; no life as living in God". A man with tremendous vision and a burning sense of mission, an orator par excellence, a rare gem of preacher, erudite, bold and uncompromising preacher of unadulterated word of God that earned him being listed in 2003 among 50 Most Power Pastors in Nigeria by Newswatch Magazine and recently received award of Most Outstanding Preachers Of Our Time In 2011 by National Network Newspaper. The Prince of Preachers, continued to refuse several honors, awards and laurels presented to him on account of not seeking to be so recognized and honored. Rather in humility he turned down many of the awards not that he did not appreciate the honours done him but as his manner and belief is the honours should go to God – who deserved all awards for whatever achievement and services he rendered to humanity and society. Like the biblical saying "no one take this honours unto himself" and "A man can receive nothing except it be giving him from heaven"(John 3:27) Because God has honored Apostle Zilly Aggrey for his innumerable achievements, "he has also crowned (him) with glory and honour" (Ps 8:5). Therefore, it could be seen from endless list of honours, distinctions and laurel he received from different segments of the society and beyond as evidence of God's grace upon his life.
Of the many, he turned down, he received from Pentecostal Fellowship of Nigeria, Rumuomasi Zone the award of "Transparent and Transformational leadership" 2011. Apostle Zilly Aggrey is an embodiment of social engineering, a preacher of high intellectual acumen and integrity, a philanthropist par excellence. I call him the gift that keeps giving. My family, Ministry and I have benefited from his continual giving. Most importantly, a Christian leader, a devoted husband. He also received Justice of Peace (JP) from the government. This distinct and God fearing personality, Apostle Zilly Aggrey fits G. Holland's piece titled "God give us men" Wrote thus: "A time like this demands strong minds, great hearts, true faith and ready hands, men, whom the lust of office does not kill, men, whom the spoils of office cannot buy; men, who can stand before a demagogue and dam his treacherous flatteries without winking, tall men! Sun crowned men, who live above the fog in public duty and private thinking". To those who know him , this description of Holland's dream men perfectly fits Apostle Prince David Zilly Aggrey, an Ijaw man of no mean extraction, the triple Chairman Christian Association of Nigeria Rivers State, Pentecostal Fellowship of Nigeria Rivers State and Niger Delta Christian Leaders Forum Rivers State. Indeed, Apostle Zilly Aggrey is a man towering not only in height and presence, but also in achievements and a person with some of the finest attributes providence can bestow on a man. Even his greatest critics cannot; but admit, that he is courageous and forthright, dynamic and decisive, resolute and of high integrity, resourceful and visionary. He is a mentor to many ministers and churches. His Ministry is endorsed by many great servants of God among which are late Archbishop Benson Idahosa, Bishop Dr. David Oyedopo, Pastor Enoch Adeboye, Pastor Ayo Oritsejafor, Bishop Mike Okonkwo, Arcbishop Margaret Idahosa, Bishop Duncan William, Bishop Fred Addo, etc.
The Prince of Preachers, Apostle Prince David Zilly Aggrey as he mark his 50th year jubilee anniversary of his birth on earth, so ushered in and signifying a call to joy, liberation, and the beginning of a year for "doing justice" and "loving mercy". A new vistas and era of divine working has begun. 50th years to enforce with speed the demonstration of high level supernatural manifestation of God's grace, liberation of the oppressed and proclamation of justice, freedom for all that are oppressed by the devil and misgovernance in our polity. Ladies and Gentlemen l present to you – the Prince of Preachers, God's generalissimo of our generation – Apostle Prince David Zilly-Aggrey at 50th years. Happy birthday my brother, colleague, leader and friend. Have question, you may call: 08033399821 or write: [email protected] Stay blessed.
Written By Dr. Lewis Akpogena

Disclaimer:

"The views/contents expressed in this article are the sole responsibility of

thewillnigeria.com

and do not necessarily reflect those of The Nigerian Voice. The Nigerian Voice will not be responsible or liable for any inaccurate or incorrect statements contained in this article."
Articles by thewillnigeria.com