A SEASON OF ANOMIE IN EDO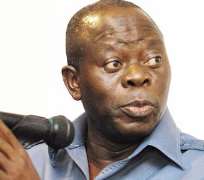 There is a creepy political melodrama going on in Edo State. The drama is, as it were, defining the shape, content and texture of the scheduled July 14 governorship election which incumbent Governor Adams Oshiomhole is already prosecuting by throwing in everything at his disposal: desperation, propaganda, intimidation, lawlessness, executive rascality, impunity and public funds.
He is leaving no stone unturned to surpass himself as the protagonist in the grisly stage show into which he has coercively conscripted, as minor characters, all manner of non-governmental organizations, political groupings, social associations, labour unions, religious bodies and traditional institutions from whose leaderships he has procured questionable endorsements which he gleefully celebrates in the media.
These are the odium and propaganda components of the Oshiomhole hysterics that have fouled up the political space in Edo. The state and its elements were grappling with the writ-large administration of a propagandist who has bestridden their landscape like a colossus; they have now been dragged by their noses into new frontiers of lawlessness, intimidation, executive rascality and impunity.
These were clearly demonstrated and witnessed in the danse macabre that took place on Thursday, March 22, 2012, in the guise of a sponsored pro-Oshiomhole rally held at the Samuel Ogbemudia Stadium in Benin by the Nigeria Labour Congress (NLC) and the Trade Union Congress (TUC). It should be baffling to many right-thinking people why the NLC president, Abdulwaheed Omar and his TUC counterpart, Peter Esele, would lead harried Edo workers out for a rally with a clear political motive: to declare support for Oshiomhole's re-election bid.
That was an undue political influence which still feeds on the character of impunity that the Oshiomhole administration has become known for, particularly in recent times. Why should workers who are not supposed to be card-carrying members of any political party be coerced into attending a rally where Oshiomhole's re-election bid was purportedly endorsed? That Omar and Esele lent themselves to the despicable action is instructive in understanding a big "union alliance" cartel into which Oshiomhole has turned Edo State.
Omar's unbridled involvement in the affairs of Edo as an issue of primary interest instead of NLC affairs, which has become secondary to him, is condemnable. He has, for reasons best known to him but which certainly centre on pecuniary interests, chosen to be the mouth-piece of Oshiomhole's re-election agenda. After all, he is not an indigene of Edo State and the forthcoming governorship election is not a national affair. This is why I am curious and concerned as a bona fide Edo son.
He talked about anybody who wants to be governor to be ready to test his popularity. Good talk! He has forgotten that all those who want to be governors of the state on the platforms of political parties other than Oshiomhole's Action Congress of Nigeria (ACN) are indigenes of Edo State. To that extent, nobody should be afraid of testing his or her popularity. That is why they -General Charles Airhiavbere of the Peoples Democratic Party (PDP) and Chief Solomon Edebiri of the Coalition of Parties- have thrown their hats in the ring.
They have been facing the electorate and they will continue to face the electorate in the days ahead. It is because they are attractive to the electorate and come from Edo South with the highest voting population that Oshiomhole has become panicky. It is the reason the comrade governor has resorted to brinkmanship, running from pillar to post, to garner support even from some defeated governorship aspirants of the PDP.
Omar's claim about some persons planning to step into power through "hanky-panky" (means) is tenuous. He should point the finger of guilt at his benefactor. Oshiomhole is a master of the game of electoral guile. He had turned his "one man, one vote" slogan into a mantra of deception and had hidden under it to rig (for his party) the rerun elections that took place before the last April National Assembly elections before finally wrapping it up in Edo South and Edo North senatorial districts in that election. It is interesting to know that Oshiomhole's familiar strategy is to accuse the opposition party of exactly what he is either doing or planning to do.
It is also good that Omar spoke about several attempts being made to "threaten and scatter this rally including using a number of courts here in Edo State." He admitted that those who wanted to stop the rally went to Abuja "where they got their injunction." So, Omar and his benefactor knew there was a valid injunction restraining them from forcing workers out for the rally and they chose to act lawlessly by ignoring it? Whereas, Oshiomhole's governorship is a product of a court verdict! What manner of leaders are these? Impunity is their middle name; but they hide this under the garb of labour unionism.
It is also pathetic that some labour union veterans like Ali Ciroma and Hassan Sunmonu would not mind their fragile health due to age and would be part of a political venture that could not have been propelled by any sense of altruism. Why did Oshiomhole not call up his immediate predecessor in office, the unimpeachable union leader, Comrade Pascal Bafyau, to come and lend his force of presence to the questionable endorsement rally? The answer is blowing in the air.
Oshiomhole relishes in being governor of Edo. He said as a powerless citizen he could not be oppressed, not to talk of now that he is governor. Good talk! But why did he oppress the workers in Edo State by reportedly directing them to attend his endorsement rally where attendance lists were taken? Having succeeded in forcing them to attend the rally, will he succeed in forcing those who have made up their minds not to vote for him on July 14 to do otherwise?
It is also sardonic that the comrade governor would attempt to castigate and rubbish the National Industrial Court judge who granted the injunction that restrained the holding of the partisan rally and which injunction he blatantly disobeyed. To Oshiomhole, the judges in Benin who purportedly refused to grant the order were the best to have happened to the judiciary. Was he trying to say that he did not quietly take over the bully pulpit such that the courts in Edo refused to entertain the suit because they were not ready to incur his petulance?
Oshiomhole has unleashed anomie on Edo State. His desperation for re-election would appear to know no bounds. If he has performed well in office as he claims and the people of the state truly appreciate him, does he have to overreach himself in the bid for re-election? Besides, is this not the same comrade governor who had behaved as if the welfare of teachers in the state did not matter; as if the workers did not amount to anything; as if market men and women whose stalls were demolished were not entitled to a living; as if those whose houses were illegally demolished did not deserve compensation; as if the high tax regime he introduced was a way of punishing the people for rejecting him in the 2007 governorship polls before the court installed him?
Is this not the same comrade governor who increased tuition fee in Ambrose Alli University, Ekpoma, from N18,000 to N64,000 before reducing it to N50,000 on the pretext of partial fuel subsidy removal palliatives? Is this not the same Oshiomhole who, along with his officials, claims Edo is working and the state is a massive construction site? He has said the purported infrastructure development would be his report card to the people? But now he has resorted to all manner of tactics to cajole the people and undercut the opposition.
What matters to Oshiomhole is victory on July 14. The people do not matter to him. The seeming concession and/or reduction in workers' PAYE by 40 percent; the recall of erring officials of his government like the Chair of the State Task Force on Demolition of Illegal Structures, Major Lawrence Loye (retd.), whom he ordered handcuffed and charged to court after demolishing houses of some notable Benin leaders and other steps being taken to curry people's support are all election gimmicks. If they are taken in, Edo people should be ready to confront the monstrosity of a second term governor whose antecedents in his first term show that he may resort to ruling with a fist of iron and with temperament that he will no longer need their support at the polls.
Written By John Ainofenokhai

Disclaimer:

"The views/contents expressed in this article are the sole responsibility of

thewillnigeria.com

and do not necessarily reflect those of The Nigerian Voice. The Nigerian Voice will not be responsible or liable for any inaccurate or incorrect statements contained in this article."
Articles by thewillnigeria.com