Ladoja's PDP Return Stalled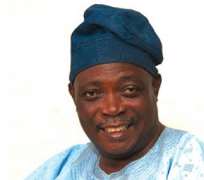 IBADAN, March 17, (THEWILL) - The eagerly anticipated return of former governor of Oyo State, Senator Rashidi Adewolu Ladoja, alongside members of his Accord Party, to parent Peoples Democratic Party will have to wait much longer following Friday's stay-of-action declaration by his current party.
The state and national hierarchy of the PDP had reportedly met with the Oyo State AP leader to talk him into a return on the strength of its ongoing reconciliation efforts.
But the state's Chairman of AP, Alhaji Basiru Lawal, and former Speaker of the House of Assembly, Mr. Adeolu Adeleke have announced a rejection of PDP's offer, "for now."
Speaking at the end of a party stakeholders' meeting, Lawal and Adeleke announced the party's refusal to grant Ladoja and his loyalists a return to PDP, saying AP and its leader, Ladoja, would be absent from the Oyo State PDP congress scheduled for Saturday.
"We just held the stakeholders' meeting where it was resolved that (Senator Rashidi) Ladoja should shelve his decision to return to PDP," Lawal said. "Three weeks ago, Accord Party held a meeting to deliberate on the invitation of Ladoja to the PDP."
He explained that the party's nod for a discussion with PDP at the time has been rescinded owing to problems and "fractures" in Ladoja's erstwhile party. "It was resolved that AP members should remain in AP and we told Ladoja to stop negotiating for now," he concluded.
Also speaking Adeleke said that although Accord harboured no grouses against the PDP as a political party, it disagrees with PDP's principles.
"Ladoja is particular about good governance. We don't want to be part of those who who unleash terror on innocent members of the public. The last local government congress was violent and we don't want to join such people," he said. "The negotiation with PDP has not been foreclosed. However, we have to see the commitment and seriousness in them."