Syrian Security Compounds Hit By Deadly Car Bombs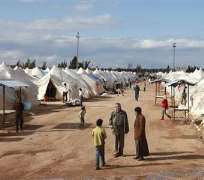 Two large explosions hit Damascus on Saturday, killing several security force personnel and civilians, state television reported, blaming what it said were terrorists behind the year-long uprising against President Bashar al-Assad.
Video from a blast at an intelligence centre showed the front of the building blown away, with numerous burnt out cars littering the street below.
The second bomb targeted a police building, with television showing the smoldering wreckage of a car at the site, and what appeared to be at a charred corpse inside the mangled shell.
A minivan nearby had a pool of blood on the floor. Its doors and windows were shattered and its panels were also stained red with blood. Damascus residents said clouds of black smoke could be seen rising from the areas where the blasts struck.
No one claimed responsibility for the twin attacks, which appeared to be similar to suicide bombings that struck Damascus and Syria's second city Aleppo in the last three months.
The explosions came two days after the first anniversary of year-long uprising, in which the United Nations says more than 8,000 people have been killed and some 230,000 forced to flee their homes as the violence spreads.
The U.N.-Arab League envoy for Syria, Kofi Annan, warned on Friday that the crisis could spill over into other neighboring countries and urged international powers to lay aside their differences and back his peace initiative.
While the West and much of the Arab world have lined up to demand that Assad steps down, his allies Russia, China and Iran have defended him and cautioned against outside interference.
"The stronger and more unified your message, the better chance we have of shifting the dynamics of the conflict," an envoy said, summarizing Annan's remarks to a closed-door meeting of the 15-nation Security Council.
Turkey said on Friday it might set up a "buffer zone" inside Syria to protect refugees fleeing Assad's forces, raising the prospect of foreign intervention in the revolt, although Ankara made clear it would not move without international backing.
HUMANITARIAN MISSION
Saturday's attack followed three suicide bombings in Damascus in December and January which killed at least 70 people. Syria's government, blaming al Qaeda for at least some of those attacks, vowed to respond with an iron fist.
Aleppo has also been hit by car bombs, with blasts outside security bases in February killing 28.
The renewed violence in the capital occurred on the day that a joint mission by the Syrian government, the United Nations and the Organization of Islamic Cooperation was due to start assessing humanitarian needs in towns across Syria which have suffered from months of unrest.
One source involved in the mission said team members were still gathering in Syria and it was not immediately clear when they would start their work.
The Syrian government denies accusations of brutality against civilians. It says it is grappling with an insurgency by terrorists and foreign-backed militants.
Diplomats have warned that without a swift resolution, Syria will descend into a full-blown civil war.
Syria lies in a pivotal position within the Middle East, bordering Turkey, Jordan, Israel, Iraq and Lebanon, and its 23-million-strong population comprises a mix of faiths, sects and ethnic groups.
"I think that we need to handle the situation in Syria very, very carefully," Annan told reporters in Geneva on Friday.
"Yes, we tend to focus on Syria but any miscalculation that leads to major escalation will have impact in the region which would be extremely difficult to manage," he said.
Increasingly alarmed by the growing violence, Turkey urged its citizens to quit Syria on Friday and raised the prospect of creating a safe zone on its border to protect the refugees.
"A buffer zone, a security zone, are things being studied," Turkish Prime Minister Tayyip Erdogan told reporters, adding this was not the only proposal under consideration.
Ankara is wary of military intervention and has made clear any creation of a 'security zone' would need some form of international agreement, not least because it would require armed protection and could alter the dynamics of the uprising.
Turkey says it is now hosting 14,700 Syrian refugees after 250 people crossed its borders on Friday. Some 1,000 had arrived the day before, fleeing fierce fighting in Idlib province.
Turkish officials were expected to discuss a buffer zone and other ideas at a meeting of Assad opponents in Istanbul on April 2. Turkey has become a hub of the anti-Assad movement, hosting the main opposition umbrella group and rebel Free Syrian Army.
As such, Ankara has a unique insight into the growing division among these groups that could complicate any establishment of a new administration in Damascus.
Annan said he would dispatch advisers to Syria early next week for talks about sending international monitors, in the hope their presence would break the violence and warned the situation was highly delicate.
The veteran diplomat presented Assad with a six-point peace proposal at talks in Damascus last weekend. Envoys said he told New York on Friday that the response to date was disappointing.
REUTERS