10 Dead In Mubi After Two-Day Shootings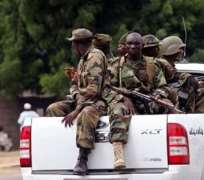 SAN FRANCISCO, March 16, (THEWILL) - Calm is beginning to return to Mubi, the second largest city in Adamawa State, after nearly two days of violence that consumed 10 lives, following a shootout between soldiers and unknown gangsters suspected to be members of the deadly Boko-Haram Islamist sect.
The soldiers had reportedly tracked some of the gunmen from Maiduguri, the sect's base, to a large compound in Mubi, where they had been holing up. In the ensuing shootout, six members of the group were killed while and another one was arrested.
By the following day, the gunmen had regrouped for a retaliatory attack on a joint patrol van, putting down a police inspector, a soldier and four others in the process. Reports indicated that the military patrol team was ambushed by their assailants along Ahmadu Bello Way in Mubi, after which there were multiple explosions and sporadic gun firings from about 7:30pm till the entire night.
Some eyewitnesses said that the gunmen rode in a car while others said they were on motorcycles. Bala Muhammad, one eye witness, told THEWILL that gunmen in a black car detonated an explosive device and opened fire on the moving military patrol vehicle. He disclosed that the soldiers responded to the fire in self-defence but were unlucky to lose a man while four others were wounded.
"The gunmen fled the area, leaving a soldier dead and four others wounded. One police officer and other persons were also killed in the attack," he narrated. "We could not ascertain the identities of the four persons; we do not know if they are pedestrians or gunmen."
Mr. Adenrele Shinaba, the Adamawa State Police Commissioner, refused to comment on the development, directing all enquiries to the Public Relations Officer, Ms. Altine Daniel, who in turn said the Command needed some hours to make its official statement.
Mubi had witnessed massive violence only on Monday and Tuesday, the youths protesting on major streets following the non-removal of corpses of slain suspected Boko Haram members who had engaged soldiers in a shootout.
Mubi, one of the biggest cattle trading centres in West Africa, hosts the Adamawa State University, the a federal polytechnic and a college of health technology, consequently boasting a combined student population of over 10,000.