GOVERNOR T A ORJI AND HIS MANY DECEITS!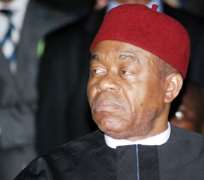 In the last couple of weeks, the Executive Governor of Abia State, Chief T A Orji, has tried hard through the electronic, print media and, other unprofessional and ill-matured ways to present an impressive record of his governance and leadership of the state with no success. Much as he continues to, he exposes his inefficiency, ineptitude, lackluster, moribund idea, unorganized and lacking focus in the drive to position Abia State among the well governed and developed states in Nigeria. Abia State, no doubt under Chief TA Orji, has failed woefully with all the available resources coming to it from Abuja and others from the state. It is as a result of these that wherever TA goes to he is booed, jeered and called unprintable names by his people. This happened most recently according to reports, at Aba Township Stadium and Nnewi during the burial of the Biafra leader, Dim Chukwuemeka Odumegwu Ojukwu.
Abia state is one of the very blessed states in Nigeria, apart from the natural resources like oil and gas, it has, Aba - a thriving commercial city that cannot be ignored in Africa. An economic development driven, thinking, focus, energetic governor would support Aba with all it takes to get it positioned among the top world economic powers. TA Orji has told the world that he is building roads and infrastructures in Aba, but a trip to this commercial city will reveal the blatant lies that this administration and its media team are busy wasting funds in the name of image laundering. Aba is one of the most abandoned cities in Nigeria; it is a city with no motor able road both within the market and main roads exiting it. No drainages to control the floods when it rains as it would soon start pouring down in few weeks from now. It lacks organization and infrastructures befitting a world class commercial city, where and how do this man spend our money?
A close look at the education policy of TA Orji's administration shows much clearly the poverty of idea of the man at the seat of power in Abia state. The only thing TA Orji prides about in his education policy are the buses he made available for the students in secondary schools. This is certainly a fraud, why would the Governor not know that these buses will in not too distant time pack up? Wouldn't this man have known that building more schools close to the students in their villages, providing them with modern day libraries and laboratories, qualified and well motivated teachers, writing and reading materials, would have made more sense? These and more are some of the things needed for an improved educational system and not his locomotive buses that he boasts about. The truth of the matter is that TA Orji and his administration suffers from acute dementia of ideas on the economic transformation of Abia state.
The eight month old Imo state governor, Owelle Rochas Okorocha, has begun well in building infrastructures, support for education, by declaring free education and further explaining how he will implement it. There is enough money in Abia state to declare quality and well run free education in our elementary and secondary schools. TA Orji will do that the moment he decides to be properly organized, focused and cuts down and totally the very unnecessary spending he has engaged himself in. Education is too important for any leader to play politics with.
During the 2011 Christmas celebrations, the civil servants in Abia state could not celebrate with their families because they were owed for about three month running. It is not on record that the Federal Government has for once failed to provide the states of their monthly allocation and Abia state, falls among the states that were favoured in statutory allocation, VAT, excess crude sharing, which runs into tens of billions of naira in 2011 for Abia state government. It is evidently clear from the woeful and awful performance of the governor, that, he was never prepared for the governance of the state. He had in his first term blamed his non-performance on the person of the former governor, Dr. Kalu and his mother, Madam Eunice Kalu, for their undue interference in his government. In this his last term, who, what, would TA Orji blame this poor performance of his at?
Another charade, fraud and deceit going on in the administration of Abia state is in the transport industry. Abia state has the Abia Line and Network, a transport service division created by the government of Orji Kalu during his reign. Recently, one finds in the new buses acquired by the state government, photographs of the governor displayed and his claim; ''donated by Chief TA Orji'' inscribed on the buses. We may then ask, if Chief TA Orji bought the vehicles with his personal earnings? TA should engage himself on serious developmental goals that would live him a good and everlasting legacy, rather than cheap popularity that exposes him to ridicule. It is an insult, a fraud on the people of Abia state, for a man entrusted with the wealth of his people to begin to personalize and claim he is supporting the state with his money. This was also the style of Dr. Orji Uzor Kalu, who during his tenure was building business empires for himself yet, telling Nigerians how he was coming to the aid of Abia people.
Umuahia, the state's capital, remains an eyesore. It is an example of the old Oshodi in Lagos. There is absolutely nothing wrong in TA relocating the market in Umuahia to a much better environment that befits a market. He can go learn from the Ondo state governor, Dr. Olusegun Mimiko, who built an ultra modern auto mart for all the car dealers in Akure, the state capital. Let him visit Lagos and see the wonderful work Gov. Babatunde Fashola did at Oshodi, which has kept mouths with full of praises for the eko o'ni baje fame. The government of Orji can take up the initiative, acquire a land space, build and put in some facilities in the market and, thereby relocating the traders who have surged on to the roads because of indiscipline and lack of government in the state. It is unethical for traders to completely takeover the major part of the road thereby, causing vehicular and human movement impassable, no right thinking and sincere leader will accept it. Every leader with love of its people work, as always to see its people and community progress.
The very essence of government is to hold the state in trust for the people, since the days of Dr. Michael Okpara and Chief Samuel Onunaka Mbakwe, the former governor of the old Imo and Abia state, governance and development has disappeared from the state. The experience since the inception of this democracy in 1999 has been shameful to say the least, while other states in the South-South/East are making very impressive records, Abia is lagging behind. This is sad and unacceptable to millions of Abia people who crave for speedy development of their state. There are enough resources in Abia state without necessarily going to Abuja, to work with and transform the state but, unfortunately we have had leaders both in and outside government who will prefer to share our common wealth than develop the state for a better future.
Chief TA Orji still has three years to redeem the state from its bottom line position to the top chart, if states like Akwa Ibom, Lagos could achieve so much through their governors committed and enviable records under four years then, it is possible for Abia state to be taken to greater heights within three years of this administration.
Written By Uzodinma Nwaogbe

Disclaimer:

"The views/contents expressed in this article are the sole responsibility of

thewillnigeria.com

and do not necessarily reflect those of The Nigerian Voice. The Nigerian Voice will not be responsible or liable for any inaccurate or incorrect statements contained in this article."
Articles by thewillnigeria.com