HOW TO BOOST HEALTHCARE DELIVERY IN NIGERIA, BY SOYINKA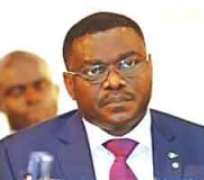 To boost healthcare delivery, the provision of efficient and effective healthcare system is possible through appropriate and adequate equipped medical facilities, as well as, well-trained personnel.
Ogun State Commissioner for Health, Dr. Olaokun Soyinka, who stated this while declaring open a three-day health retreat organised for the managerial staff of the Ministry of Health held recently at the Covenant University, Ota noted that a healthcare system that delivers competent, preventive and curative services is paramount to the development and growth of the Ogun State health sector.
While indicating the state government's commitment to improve healthcare service delivery and take it to an internationally acceptable standard by rebuilding all tiers of the sector, Soyinka said, 'it is the collective responsibility of all the participants to concretise the vision and mission of the Amosun led-government concerning efficient and effective healthcare and turn it into a reality.'
According to him, 'we have to do something about the health sector. We are here to translate the vision into reality by understanding our role in developing a plan that will move the health sector forward.'
Soyinka informed that the plans of his ministry include human resource development, health promotion and advocacy. He urged participants to be devoted and perform their roles effectively in moving the health sector forward.
He pointed out that one of the advantages of the retreat 'was having done the planning together with the managers, everyone will have a big picture of what we intend to achieve. They will also understand clearly their own role since they were part and parcel of putting together the activities that would enable them contribute their own quota in implementing the plan.'
Also speaking, the retreat Consultant, Ayotunde Yoloye, identified the National Strategic Health Development Plan (NSHDP) and the State Strategic Health Development Plan (SSHDP) to include leadership and governance for health, health service delivery, human resources for health, health financing, health information systems, community ownership and participation, partnership for health development and research for health.