S'EAST LOSES N379B ANNUALLY -IGBOKWE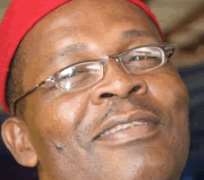 •Igbokwe
Publicity Secretary of Action Congress of Nigeria (ACN), Lagos State, Chief Joe Igbokwe has said that South East zone has lost over N379billion as a result of marginalisation, especially in area of having the least number of states in the federation.
Igbokwe, who is also the General Manager of Lagos State Infrastructure Maintenance and Regulatory Agency (LASIMRA), stated this in a paper he delivered at the Ofo seminar organised by Enugwu Ukwu Forum in Anambra State.
Igbokwe revealed that Nigerian leaders stole the amount from the Igbo nation since 2006 when former president Olusegun Obasanjo 's constitutional conference recommended an additional state to be created in the South East.
To buttress this fact, he used the allocation of Anambra State in June 2008, including the 21 local government areas, which was N5.2 billion and, assuming it was the monthly average for year 2008, it means that the state got N62.4 billion in 2008.
'It is now six years from 2006, if you multiply N62.4 billion by six, you get N374.4billion. The new state would have been given a take off grant of about N5billion, making it a total sum of N379.4 billion.'
He also stated that allocations to the three arms of government have improved from what it used to be in 2008 and since there is no state in Nigeria today whose yearly budget is still in the region of N60billion, it means that is what Nigeria has stolen from the South East zone.
According to him if the new state was created in the South East, it would have created jobs for about 50,000 Ndigbo, created administrative towns, ministries and parastatals and other opportunities. 'Tremendous opportunities would have been created and structures would have been built. Also, we would have had more senators, House of Representative members, states House of Assembly members, governors, ministers and other cadres of federal appointees.'
Stressing on the dwindling fortunes of the Igbo, which he said began after the war, Igbokwe noted that the race that was one on the political tripods has lost its leg.
' Since after the civil war in January 1970, the political fortune of Igbo has been a downward trend. We have witnessed a gradual downgrading from a viable leg of the Nigerian tripod to no leg at all in the present Nigerian polity and Nigeria is being run in a way that suggests that the rest of Nigeria can do without Ndigbo.
'We are no longer given prime attention in filling critical national positions. We are just fed morsels as if we have no choice and this has had a terrible and devastating effect on the fortunes of Igbo. It got worse by the day. Let us recall that it reached a bestial height during the days of late tyrant, General Sani Abacha, when the ruling body, the Supreme Military Council had no Igbo. It took the late human rights crusader, Gani Fawehinmi to court to reverse the trend and this is a man that is not Igbo. He is Yoruba. It serves a lesson that Gani restored our dignity where there were many Igbo picking crumbs from Abacha's table.
He further pointed that though Igbo may blame the structures of the Nigeria federation for their catalogue of woes, but insisted that they must look inwards to address the damage they did to themselves unknowingly. 'I am suggesting that Ndigbo need to come and cohere together. We are at our best when we work together, especially when our very existence is challenged. Coming together does not connote being under the same ideological or political umbrella. We must still be different but must find way to share common belief in issues that advance our interests.'
Igbokwe highlighted on what he called ' Systemic official marginalisation' of the Igbo nation. According to him, it is unarguable that Ndigbo are being greatly marginalised and he used statistical data to prove his points. The facts, he said include, The dilapidated state of what passes as federal roads in the South East, politicization of the Second Niger Bridge project to the effect that it is yet to be done when existing bridge is nearing collapse, lack of any viable federal project in the entire South Eastern zone, denial of opportunities to Ndigbo in the larger Nigerian polity 'Let us have a glimpse of the state of appointments in the present Jonathan government to demonstrate our position that in today's Nigeria, the Igbo are the hewers of wood and fetchers of water. By using the Jonathan government, we want to show that Igbo are still marginalised in a government they loudly proclaimed as their own.