Akwa Ibom Youths Shut Down State-Chinese Oil Firm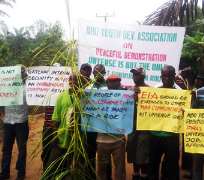 AKWA IBOM, March 02, (THEWILL) - More than 500 enraged youths from different communities in Mbo Local Government Area of Akwa Ibom State on Thursday disrupted activities at the Marginal Oil Field jointly operated by the state government and Chinese Universal Energy Resources Ltd, over accusations of neglecting local contractors in the award of jobs and terminating the contract handled by an indigenous security firm that employed youths of the area.
Led by officials of the Mbo Youth Development Association, they stormed the Stubb Creek Marginal Oilfield in Unyenge, forcing workers to shut down operations of the company and barricading the two access roads to the oilfield. They afterwards rebuffed appeals of company workers who persuaded them to resolve the issues amicably with the management of the firm and also pledged to meet community representatives later.
Contractors who anonymously confided in THEWILL said they would abstain from the site until the resolution of the conflict between the communities and Universal Energy Resources. But a semblance of calm was however restored later after a Police team from Mbo Police Division, led by Superintendent Anietie Eyoh, arrived at the scene to disperse the protesters.
Area Commander, Assistant Commissioner Ene Okon detained leaders pending their signing of an undertaking to maintain the peace, a situation that heightened tensions as more youths trooped to the Command headquarters to press for their release.
Speaking with journalists, president of the youth association, Mr. Eteka Etim said the protest would be discontinued with when the oil firm signs a Memorandum of Understanding (MoU) with the communities.
"We are here to block the company called Universal Energy because of their maltreatment and neglect of the people of Orukun and the entire Mbo community," he explained. "So we don't want them to continue with their work except they sign the MoU indicating that every other community of Mbo will have an equal share. And we want to know the position also in the sharing formula because Mbo Local Government is not made up only of Unyenge community, but also Egwang, Ebuhu, Efiat and Udesi."
He swore that there would be no peace until the right thing was done.