Boko Haram: Yobe Begins Employment of Jobless Youths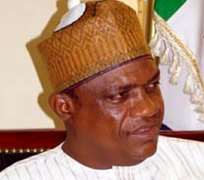 YOBE, March 02, (THEWILL) - Overwhelmed by rising insecurity in Yobe and other parts of northern Nigeria, the state government on Thursday approved the appointment of jobless youths into the State Civil Service, in an apparent move to engage their minds positively.
Governor of the state, Ibrahim Geidam instructed local government, community and government agencies to liaise with the office of the Head of Service, and forward to the Civil Service for unemployment, the list of unemployed graduates in their domains who are holders of diploma, NCE and degree certificates.
Addressing community leaders and elders from the 17 local governments in the state during an interactive session at WAWA Hall, Government House Damaturu, he revealed that his administration only few weeks ago recruited 194 unemployed graduates.
"Current efforts at sanitising the local government payroll through ongoing verification exercises will help free up funds for the recruitment of more youths into government and help to provide more social services at the grassroots.
He also disclosed that a new Craft and Skill Acquisition Centre would be put up soon to engage youths without formal school qualification. "This Centre will train our youths who may or may not have formal certificates, so that they can acquire skills that will improve their livelihoods. We will teach them carpentry, metal works, knitting and repair of generators and GSM handsets; and provide them with relevant tools to practise free of charge on completing their training."
Several youths across the state, he said, had benefitted from the government's youth empowerment programme, which included sending many of them to the Sani Abacha Youth Centre in Kano to learn and acquire various skills. "We will now bring this training close to our youths by having a Centre dedicated to this purpose," he told the elders and community leaders.
Debunking rumours that ongoing verification of workers at the local government would lead to massive disengagement from work, he assured that the exercise was purely meant to ensure that only genuinely recruited workers got salaries, considering plans to implement the new Minimum Wage at the both the state and local government levels.