Senate Halts FRSC's New Pricing Of Licence, Plates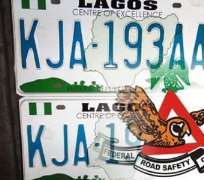 ABUJA, February 29, (THEWILL) - Citing frequent price hikes and a litany of public complaints, the Senate on Wednesday halted an umpteenth introduction of new pricing for vehicle plate numbers and licences embarked upon recently by the Federal Road Safety Commission. The directive was sequel to a motion sponsored by Senator Dahiru Awaisu Kuta (PDP, Niger) and supported by 19 others.
Warning the Commission to concentrate its attention on its statutory mandate of safeguarding Nigerians roads and their users, the upper legislative chamber mandated its Committee on Federal Character and Inter-governmental Affairs to conduct a public hearing on FRSC's licence and plate number scheme.
In his lead debate, Sen. Kuta recalled that the FRSC has in recent times embarked on frequent and arbitrary introduction of new pricing regimes for vehicle plate numbers and licences.
"The new drivers' licence, which the Commission launched in 2011 is now issued for N6000 from the N3000 it was, while plate numbers that used to go for N5000 now cost an astronomical N15000," he lamented. "For trucks and other categories of vehicles, we are talking of figures between N20,000 to N40,000. The Commission has, therefore, generated N2bn as its own share of the new scheme."
He regretted that the exorbitant cost of licences and plates has only earned the Commission the outrage of Nigerians. He then doubted the feasibility of meeting the August 31 deadline for all vehicle owners to be registered under the scheme, arguing that current demand surpasses supply — a situation he believed would encourage exploitation by touts and middlemen.
Speaking on the issue, the President of the Senate, David Mark berated the Commission for ditching its primary function of safety for revenue generation. "This same FRSC introduced this existing number plate. What is wrong with it and why are they changing it?" he queried. "Although one of its functions is to issue drivers' licences, the Commission still has no rights to impose additional expenses on Nigerians."
He further said: "There are so many little things they have to do here. If you are carrying gravel, you must cover it with tarpaulin; they are not doing that any longer. Nobody says they are not doing anything but why has revenue generation become the main function?"
Others who spoke in similar manner were Senators Barnabas Gemade, Smart Adeyemi, George Sekibo, Ali Ndume and George Akume.