ADAMS OSHIOMHOLE, CHARLES AIRHIAVBERE: GUBERNATORIAL QUESTIONS FOR TELEVISED DEBATES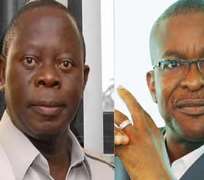 Now that the governorship primaries are settled, let the first set of major debates begin between Governor Adams Oshiomhole, the former President of the Nigeria Labour Congress, and retired Major General Charles Airhiavbere, the former Director, Nigerian Army Finance Corps.
The Edo people are known for their great traditional leaders, power traditional institutions and a cycle of traditional knowledge marked with wisdom, knowledge, and teachings of collective advancement. So we will expect much more from our two great Edo sons and leaders.
The future moderators should begin to prepare their questions, and in addition to the moderators' questions, the public should be invited to submit questions during the debate with competing responses from the gubernatorial candidates.
The moderators in the expected two to three debates before mid-July, 2012 should demand in-depth responses to simple, difficult, expected or unexpected questions and allot equal-time rules to allow for responses.
Gubernatorial debate questions tailored to the needs and aspirations of the Edo people across the cities and rural areas are what should be expected and brought forward.
Here are some main questions that could be addressed in the public debate?
•Explain your respective feelings and thoughts of being both fortunate and lucky to be a top statesman in Edo State, and to be blessed to stand here today as a leader of the people?
•It now seems that the nation appears to be struggling to unite for a common purpose, so what is your blueprint to chart the course of unity in the Edo Kingdom or State, politically speaking?
•The people of Edo State certainly have the right to know when deciding who to vote for; so what right credentials do you bring to the people that make you believe you can do an exceptional job for the State, and the country?
•The people of Edo are known for being forward looking people, as such many of them are less concerned about the past and more concerned about the future, what type of future are you constructing for them?
•As Edo people, we have a caring spirit, so what do you plan to do for some of our people with visual/physical impairments, mental health challenges and other forms of disabilities?
•What is real leadership, have you experienced it, and when under crises how will you deal with essential issues like State matters?
•There are times when a Governor or a leader must make lonely and important decisions on behalf of the people, in what instance do you perceive this type of challenge to occur?
•At a time when the nation and many States are struggling with issues of national insecurity, what is your tract record as a peacemaker, and what role will you be playing to help to enhance peace and unity in the country? Do you a support State police system in the future and why?
•Many scholars believe that the nation has neglected Agriculture for too long, since it is one of the pillars that could help to rebuild the economy, what are your future plans in this area?
•Our young people's problems fully revolve around education and employment challenges, how will you help them?
•For the first time in their lives many youths are worried about this country, and their own future, so, sir how are you going to turn this around, especially in Edo State?
•Sir, across Edo State, you've got families sitting in their parlor or living rooms checking their heads to see if they have enough money to make ends meet for a whole month or the week, how will you help them?
•What are your plans to see that everybody in our great State have the kind of economic opportunities that will keep them to become very content, and make them believe that Edo State will open up a future that will be brighter for their children than it has been five to ten years ago?
•President Jonathan in the past have mentioned two or three States that are doing very well for themselves, Edo State is not among them, so how do you plan to give the people opportunity and to let them enjoy the freedoms that will make the rest of the country envy Edo State?
•Now that the federal government is talking about entrepreneurship, as one way to reduce unemployment, what training programs as in business-oriented training program which involve the government giving trainees some money to invest, so that in less than 100 weeks the person becomes an investment in him or herself, thereby giving the State the best-trained workforce in the nation, what is your view about this?
•The Edo people and kingdom and all the areas of the kingdom are renowned for their dexterity and skills in traditional cloth-weaving, molded statues, statuettes, figurines, pottery making, and other areas of arts, how do you plan to keep and make this great blessings economically helpful to the State?

•If you were to focus on corruption, unemployment, road construction, healthcare, schools, and sanitation issues (please write each one down and address each specifically) in these tough times, what is exactly your plan in each of these areas?
•Why do you want the people to think your opponent can't be trusted to carry out these plans adequately?
• If truth be told, one of you was once a general in labor matters, and the other a general in in the Army, in these hard times, how will you use your experience to challenge any State adversity, and fight back like a bold leader?
•The Edo people are known to cherish and value traditions including respect for our rulers, chiefs and elders and how do you want to maintain this cherished traditional psychology and keep politics out of these customs and values?
•What is in your background and past that you may be battling with that the people of Edo State ought to know; it is your option to answer as it is a matter of trust. This is in regards to you —financially, morally, legally, medically and personally that will not later come out and make some people to say, "I told you so"?
•What do you appreciate about each other despite the gubernatorial war between the PDP and ACN, and most of all, between your selves?
Hopefully, these great debates will reveal the facts and less of emotional responses.
The candidates should remember that the whole world will be watching them in a nationally televised and timed context, as such no intimidating, interrupting or disrespecting each other as in reaching out across the table toward the other but they will be expected to square off with all they possess intellectually and experientially.
We do not want the candidates repeating talking points handed to them by their parties, and giving us canned answers as we want to see elements of realness, freshness and rightness as markers of the debates.
This is a very important election that should bring out the best in the candidates, and they need to show the people which of them are ready to sink or swim with Edo State?
While none of them is expected to have all the cures for Edo State woes, at least they should go toe-to-toe in the race to be ringmaster of one of Nigeria's artistic kingdoms known as Edo State.
Written By John Egbeazien Oshodi
[email protected]

Disclaimer:

"The views/contents expressed in this article are the sole responsibility of

thewillnigeria.com

and do not necessarily reflect those of The Nigerian Voice. The Nigerian Voice will not be responsible or liable for any inaccurate or incorrect statements contained in this article."
Articles by thewillnigeria.com