SUSWAM WIN AS TRIBUNAL STRIKES OUT ANPP, ACN PETITIONS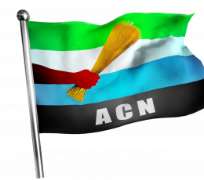 It was a day of joy and jubilation for Governor Gabriel Suswam and his supporters as the Governorship Election Petition Tribunal sitting in Makurdi, Benue state yesterday struck out the petitions of both the Action Congress of Nigeria (ACN) and All Nigeria Peoples Party (ANPP) against him.
Delivering a consolidated ruling on the petitions, Chairman of the tribunal, Justice Halima Muhammed said the decision to strike out the petitions was hinged on the Supreme Court judgment of constitutional provision of 180 days.
Justice Mohammed explained that the ruling was in accordance with the decision of the apex court which stipulated 180 days life span for any petition.
She noted that based on that decision, the petitions of both parties expired since November 2011 adding that the tribunal did not have jurisdiction to continue with the petitions and thereby struck them out.
Reacting to the judgment, Governor Suswam said the ruling has vindicated his victory at the poll, and enjoined the people of the state to join hands with him to concentrate on people-oriented programmes.
Suswam also used the opportunity to invite the people of the state, particularly, the opposition to join hands with him and not hesitate to bring good idea that could help to build a new Benue that would be desirable to all.
Earlier, counsel to Governor Suswam Mr. Domian Dodo (SAN) had brought a separate application seeking for the termination of the petitions brought by the governorship candidates of the Action Congress of Nigeria and All Nigeria Peoples Party Professors Steve Ugba and Daniel Saror on the ground of the decision of the supreme court which he said has rendered the tribunal incompetent to continue with the petitions.
However, counsel to ACN Rotimi Akeredolu, (SAN) in his reaction to the ruling vowed that the party would appeal the ruling.
There was heavy presence of armed security men within and around the state capital to forestall any breakdown of law and order, just as supporters of the Governor took to streets with shout of victory.