Eight Arrested For Attempted Bombing In Bauchi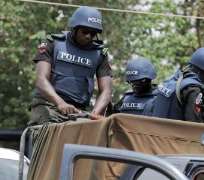 BAUCHI, February 27, (THEWILL) – Eight men who attempted to detonate explosives at a church in Miya Barkatai Village in Toro Local Government, Bauchi State, have been nabbed by the Police.
Residents who witnessed the scare alleged that the mean-looking men arrived at the COCIN Church with explosive devices, which they attempted to set off before they were overpowered by vigilant villagers. All eight were said to be Christians living in the area, albeit they are from neighbouring villages. Two of the eight men were identified as: Lamba Goma and Filibus Danasa.
Bauchi State Commissioner of Police, Mr. Ikechukwu Ayo Aduba, speaking to journalists later, confirmed the occurrence. He described the attempted bombing as the product of infighting between two rival groups within the church, who were bent on outwitting each other.
"When we got the report, the DPO in the area sent a patrol team, which later confirmed that the culprits had explosives that were established to be locally made, manually operated IEDS (improvised explosive devices)," he said.
He implored the villagers not to panic, but to instead continue their vigilance without hesitating to report any suspicious movement in the area to the Police.